9 Apps You Can Download on Your Phone for an Epic Stargazing Experience
Another excuse to look at your phone instead of nature!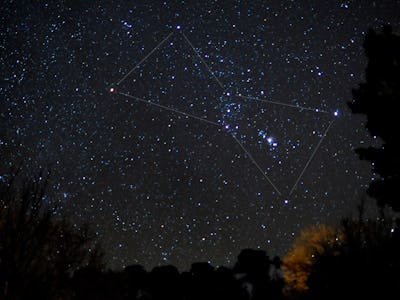 Flickr / theilr
Since Thursday is your best chance all year to see Uranus without a telescope, you're going to want to know where to look, what to look for, and how you can take your best pic for Snapchat or Instagram.
Fortunately, there are a number of apps available out there to help curious stargazers see all 88 constellations and find out if there's a planet near them. Beyond providing you with more information about astronomy than you ever thought you wanted, many of these apps have augmented reality capabilities that let you see what stars and satellites are directly above you, and offer detailed 3D depictions of constellations and planets.
So now you'll have an excuse to actually have your phone out when you're looking at the sky later tonight. What better way to celebrate the birthday of a low-key stargazer who made some big-time star discoveries?
Star Chart
Free, iOS & Android
For beginner astronomers not looking to spend any money on their stargazing, Star Chart is probably your best best. You can identify any sky object just by pointing your phone at it, but you can also find out what's around you even in broad daylight. You can even point your phone down at the ground to see what people on the other side of the world can see (because, you know, the Earth is round and all).
SkyView
$1.99, iOS only
This app has to basic point-and-shoot sky view feature like many of the other apps, but what's cool is it can access your iPhone's Today widget and list upcoming sightings of planets and constellations in your area. You can have the app also send you reminders when a certain object is visible so you never miss out on what could be the chance of a lifetime.
StarMap 3D
$1.99, iOS only
This app contains a lot of information, some of which may only be relevant or understood to a seasoned astronomer. That's not necessarily a bad thing, because the space map extends into deep space beyond where most apps show. You can toggle the map to show locations of objects at any exact time in the past or in the future.
Night Sky Tools
Free, Android only
What's great about this app is that you can save images you capture, log planets and stars you discover, and record data, all onto your phone. Beyond the object maps that are the norm throughout this list, Night Sky Tools also has weather and aurora forecasts, as well as a polar finder and daylight map.
SkySafari 5
0.99, iOS & Android
This same software is also available on desktop computers, so you can only imagine how much detail and technique had to go into creating this space map. The company behind this app, Simulation Curriculum, also produces a wireless telescope that, with this app, you can control from your phone. You have to turn your phone sideways when viewing the sky in real-time, but that means you can capture a wider perspective of space that's right above you.
GoSkyWatch
$3.99, iOS only
Using this app makes you feel like you're looking up at space from inside the dome of a planetarium. The app ensures that the view on your phone alters like a compass, giving you a pretty accurate depiction of where exactly everything falls around you. If you want to look for a specific plannet or constellation, the app will guide you with an arrow on your screen where to turn your phone so the object is in view.
Sky Guide AR
$2.99, iOS only
This is specifically designed to be used with the new iOS 11 software and take advantage of its augmented reality features. That means the app's detailed design and ability to line up your camera view with its images take center stage, so it may not be the most scientific app out there. But if you want use just a swipe of a finger to adjust your view, or focus on a nicely captured photo, this app is probably best for you.
Star Walk 2
$2.99, iOS & Android
This is another app with a set up definitely meant to be visually appealing first and foremost. It can be cool to see what that far away shooting star actually looks like way up close. The app's creator, Vito Technology, has also designed two other effective stargazing apps: Solar Walk 2, which prides itself on very graphic-oriented solar system depiction; and Sky Live, made to find when the best time to take photos of sky are for photographers and, likely, Instagramming millenials. Apple's app store offers an "Astronomy Tools for Everyone" bundle of all three apps for $5.99.
Night Sky
Free (pay for AR subscription), iOS only
This is definitely an app that gives you a great amount of accessibility without charging you anything. Constellations and planets are depicted in great detail, you can explore deep space with a guided audio tour, and there are settings to play around with that let you customize your sky view for light pollution and light spectrum. But for iOS11 users, it may be worth it to pay the $2 for month-long access the AR Grand Orrery. The solar system comes alive in your room, and you can "land" on planets to feel as if you're actually walking on them. Unfortunately Android users don't have the option to upgrade, but can download "Night Sky Lite" for free.