April 20 Walkout and Day of Action Will Happen Simultaneously, Activists Say
The date marks the anniversary of the Columbine massacre.
by Catie Keck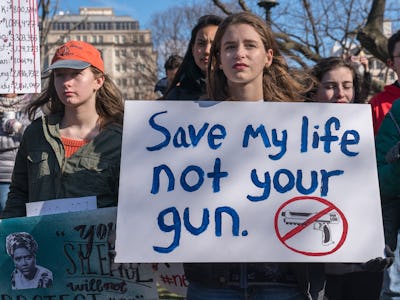 Flickr/Lorie Shaull
April 20, the 19th anniversary of the Columbine High School shooting, will be a day of observance in the face of continued gun violence in schools across the United States. While Friday is being described as a demonstration by some activists, others will be committing to a day of service.
Teen activist David Hogg, a survivor of the deadly Parkland, Florida shooting that occurred earlier this year, confirmed on Twitter on Monday that a national walkout would be happening Friday. He also told his followers that it was the intention of the Columbine, Colorado community that those participating in a walkout would also "follow [their] demonstration with community service."
Hogg previously tweeted early Monday that there would not be a walkout before later deleting the tweet, leading to some confusion. "I said that we should all walk out of wherever you are on 4/20 that was a mistake on my end and is no longer the case," he tweeted at the time. "This is what the Columbine community would like to see on 4/20."
Hogg has been a prominent voice in gun reform advocacy in the months following the Parkland massacre at Marjory Stoneman Douglas High School in February. The shooting, which was carried out by 19-year-old Nikolas Cruz, left 17 people dead.
There appeared Monday afternoon to be a clearer idea of what would occur Friday, with other activists confirming both events would take place. Sofie Whitney, another MSD shooting survivor and student activist, has along with her peers been retweeting information about the demonstration from the official March For Our Lives account on Twitter.
The National High School Walkout will occur Friday, April 20 at 10 a.m. local time.
You Might Also Like: 5 Young Gun Reform Activists You Need to Follow Online.