'Teen Titans' Live-Action Cast: Who Are Beast Boy, Starfire, and More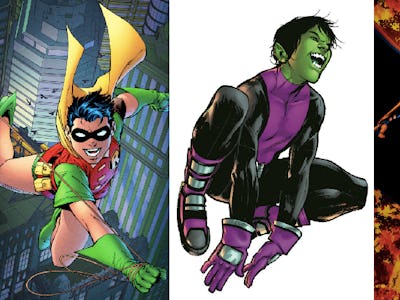 DC Comics
On Wednesday, images of DC heroes Starfire, Beast Boy, and Raven hit the internet. People were not happy about how the characters looked in the first images from the upcoming series Titans.
As part of DC's upcoming, currently unnamed streaming service, the new series will see the team of young heroes join DC's many live-action properties. The Arrowverse has been running strong on The CW for years with Arrow, followed by The Flash, Legends of Tomorrow, Supergirl, and recently added Black Lightning to that list. Lucifer and Gotham over on Fox and Syfy's new series Krypton are also part of the comic book juggernaut's television offerings.
Cartoon fans will remember the team from the two animated series about the Teen Titans and even some of DC's animated films, but never in the flesh, so to speak. So now may be a good time to revisit these characters and ask who the members of this new team are.
Dick Grayson
Skilled acrobat Dick Grayson left the circus where he worked and was out for blood after his parents were murdered. That mission took him to Batman's front door, and he became beloved DC sidekick Robin. The young man would go on to save the day as Batman's Boy Wonder in Gotham using his expert-level martial arts skills before branching out on his own to become his own hero. That chapter resulted in the creation of a new crimefighter named Nightwing.
On Titans, Dick Grayson, who will be played by Brenton Thwaites, will be transitioning from Batman's sidekick to a hero in his own right by leading the team at the center of the new series.
Starfire
Princess Koriand'r of Tamaran comes to Earth after she breaks free from captivity and torture on her home planet. After being betrayed by her own sister and treated horribly, the honorable heroes of Earth are a wonderful change. It's where she becomes the hero Starfire. Her physiology allows her to convert ultraviolet radiation in order to fly, but it's the experimentation done in captivity that gave her the additional power to turn radiation into destructive blasts. The former princess is happy to use those powers to fight for the people of Earth alongside DC's other heroes.
In the show, she'll be played by Anna Diop, a black actress, in a nice bit of diverse casting. Fans of the Teen Titans will remember many romantic storylines between Starfire and Robin, so Titans viewers should keep an eye out for a potential romance between her and Robin.
Beast Boy
Beast Boy is the member of the team who brings the humor with his fun-loving, energetic personality. The young man, whose real name is Garfield "Gar" Logan, has the ability to turn into any animal he can imagine. Gar got the ability after getting an experimental drug to cure a lethal disease he got while in Africa with his geneticist parents. The drug saved his life but turned him green and gave him the ability he used to fight alongside his teammates.
Interestingly, Beast Boy, who will be played by Ryan Potter, was introduced as part of the Doom Patrol in 1965, not the Teen Titans team he is heavily associated with. That bit of information makes the fact that Titans is also introducing Doom Patrol during the first season even more exciting.
Raven
As the daughter of the interdimensional demon Trigon, Raven has quite the legacy to overcome by saving people and stopping villains. In addition to an evil legacy, the young hero has some very powerful mystical abilities that are tied to her emotions, so she spends time working to stay calm. After all, she is strong enough to destroy the world herself if her demonic side is unleashed. Her sullen demeanor is what sets her apart from many of the other Titans, but internally she is struggling with her desire to be normal.
Odds are Titans fans will see actress Teagan Croft's Raven come face-to-face with her father at some point.
Hawk and Dove
Hawk and Dove are a superhero duo made up of Hank Hall and Dawn Granger. He is more aggressive and offensive, while she is more strategic. They fight the good fight and are also in a relationship. They are not the only version of heroes Hawk and Dove, but this pair is the one headed to Titans.
Alan Ritchson and Minka Kelly have been cast as the duo on the upcoming series as recurring characters, but that is just the beginning. According to reports, the producers and DC are looking to have the duo become series regulars in a potential Season 2, and they're even considering giving the pair their own spinoff.
From the looks of those costume choices, anything is possible when it comes to this adaptation of heroes, but we've got you covered with the basics on these Titans.
Titans is set to air in 2018.