'Teen Titans' TV Show Is Really Making Some Choices with the Costumes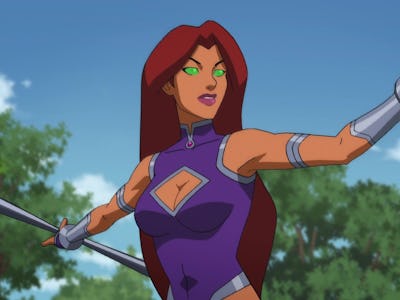 DC Entertainment
The Teen Titans are coming to TV, again! Fans are highly anticipating the young superhero team's jump from the animated world to live action in upcoming series Titans. We've gotten a look at Robin's sleek and pretty badass costume in a photo released late last year. Apparently, though, for some of the other heroes, the series is making some interesting fashion choices.
On Wednesday, some images of the show's other heroes hit the web, and their uniforms may have you raising your eyebrow. The images posted on Twitter featured Starfire, Raven, and Beast Boy. Raven and Beast Boy appear in one image: She's with her signature black clothing and blue hair, while he has green hair and a red-and-white jacket that fans of the character will recognize. Starfire, on the other hand, is mismatched with a bright pink curly wig, shimmering purple dress, and fur coat. The new project is clearly making some choices when it comes the heroes' costumes.
The upcoming series will feature Brenton Thwaites as Dick Grayson while Anna Diop, Teagan Croft, and Ryan Potter play Starfire, Raven, and Beast Boy, respectively, on the team of young superheroes. They will be joined by DC Comics characters Hawk, Dove, and the Doom Patrol.
Titans will be one of the series on DC's upcoming streaming service. The third series of the resurrected Young Justice and Superman prequel Metropolis are also part of the lineup.
We don't know much about the new series yet, but we can add one more question to the list. What have you done to these beloved DC heroes?
Titans is set to air in 2018.