'Infinity War' is Kicking the Past 7 MCU Movies' Ass in Early Ticket Sales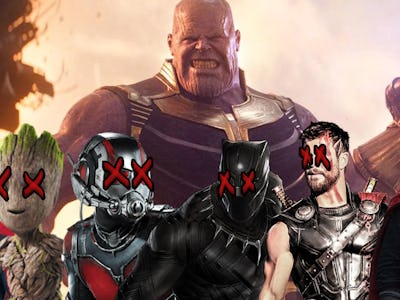 Marvel
Infinity War is going to be bigger than anything Marvel has ever done, and the presale ticket numbers are certainly reflecting that. A new report says that Infinity War isn't just doubling Black Panther's previously record-setting advance sales on Fandango, it's doing better than the past seven Marvel movies combined.
The Hollywood Reporter writes that Infinity War is on course to presell more tickets than any superhero movie ever. Fandango says the film has already doubled the number of early tickets Black Panther had sold this far out before its February release. Given that Black Panther only recently took the bestselling title for itself, this goes to show how highly anticipated Infinity War is.
Black Panther, with it's groundbreaking, almost all-black cast, had a little something extra propelling it at the box office, as does Infinity War, since it's the movie Marvel has been building too for more than half a decade. These two films might be outliers (nobody's really expecting for Ant-Man and the Wasp to outdo Infinity War), but there certainly seems to be an upward trend for the MCU. Infinity War projected presale ticket sales are enough to beat out Black Panther, Thor: Ragnarock, Spider-Man: Homecoming, Guardians of the Galaxy Vol. 2, Doctor Strange, Captain America: Civil War, and the first Ant-Man combined.
Infinity War is projected to have an opening weekend that's north of $200 million, a feat that only five movies have done before, not adjusting for inflation. There's Black Panther again, along with the first Avengers, Jurassic World, and Star Wars: The Force Awakens and The Last Jedi.
It's looking like Thanos is as hard to stop at the box office as he is in the Marvel universe.
Avengers: Infinity War will have it's monster opening on April 27.