'The Walking Dead' Will Bring Carl Back for Season 8 Finale, With a Twist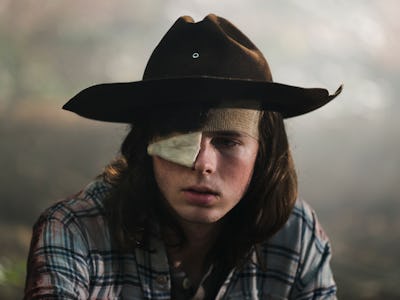 AMC
Carl Grimes is returning to The Walking Dead for the Season 8 finale. Only, it's not going to be the Carl we knew, as played by Chandler Riggs.
On Monday, AMC released preview images of this Sunday's season finale. In addition to the final battle between the Hilltop and the Saviors, one image reveals a flashback to the world prior to the walker apocalypse, where a Sheriff Rick Grimes walks hand-in-hand with his young son, the late Carl, played by a much younger actor.
The moment, fans may recall, references Carl's letter to his father, which was finally read aloud on last Sunday's episode, "Worth."
In Carl's letter, the young Grimes wrote to his father of a memory he had when he was three years old. "You holding my hand around the neighborhood, all the way to Ross' farm … I didn't know that I remembered them, but I do," Carl wrote. "Because I see the sun, and the corn, and that cow that walked up to the fence and looked me in the eye. And you told me about all that stuff, but it isn't just that stuff. It's how I felt. Holding your hand, I felt happy and special. I felt safe."
Before Carl succumbed to his walker-inflicted wounds earlier this season, he wrote hand-written letters to the most important people in his life, including Negan, whom he begged to end his sadistic bullshit and live peacefully with the Hilltop. Throughout Season 8, there were soft-focused "flash-forwards" that turned out to be Carl's fantasies of a peaceful life, which now seems mighty impossible after all the blood that's been shed.
Since 2016, The Walking Dead has been plagued by Negan, a sociopathic leader to a group of survivors called the Saviors. With a Louisville slugger wrapped in barbed wire, Negan terrorized our protagonists, pushing the stalwart Rick into new emotional territory. After forming alliances with places like the Kingdom and supplanting himself the leader of the Hilltop, Rick and his allies are ready as they'll ever be to end the fight once and for all.
The Walking Dead Season 8 finale airs this Sunday at 9 p.m. Eastern on AMC.