How Apple Reached Its Incredible Goal of 100 Percent Renewable Power
The company has even more plans for the future.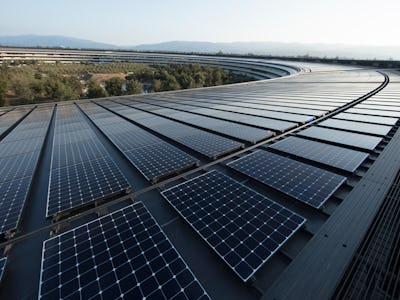 Apple
Apple is going green. The company announced on Monday that its global facilities are powered by 100 percent renewable energy. The breakthrough covers the stores, offices and data centers in 48 countries, but the company plans to continue this feat by building more renewable facilities and securing similar commitments from its suppliers.
Apple is part of a growing trend of companies making the switch to renewables — Google announced a similar milestone for 2017 — but it's not quite that simple. Similar to Google, Apple can't guarantee that the grid-based power going to all its operations came from a renewable source. The grid doesn't separate clean from dirty. In situations where it has to use this energy, like local Apple stores, it purchases Renewable Energy Certificates that cover the equivalent amount of power used by the premises. An Apple representative told Engadget that these certificates cover 34 percent of its energy usage, but it's working to bring that figure down to zero.
Apple announced that nine more suppliers have made commitments to operate on 100 percent renewable energy, bringing the total to 23. New additions to the list include iPhone assembly firm Pegatron, European leather producer ECCO, and Mac component supplier Quadrant. These pledges avoided an extra 1.7 million tons of greenhouse gases entering the atmosphere, the equivalent of over 300,000 suppliers.
The company already reached 100 percent renewables from its data centers alone back in 2014, and since 2011 its green energy efforts have stopped 2.3 million tons of carbon dioxide equivalent from reaching the atmosphere. Beyond its renewables certificates, it's built projects like the spaceship-looking main headquarters, over 485 megawatts of wind and solar in six Chinese provinces, and renewable energy projects in Singapore that cover 800 rooftops.
Apple now plans a number of followup projects to continue its goal, with plans to build fully renewable-powered data centers in Iowa and Denmark. It's also bought 200 megawatts of capacity from the Montague Wind Power Project in Oregon when it comes online in 2019, and it's partnering with Daini Denryoku in Japan to install 300 rooftop solar panels to generate 18,000 megawatt-hours per year.
Google may give some clues as to where Apple goes from here. The company announced last week it actually bought more renewable energy than it consumed, purchasing three gigawatts from sources. These contracts have aided $3 billion in renewables capital investment.