How Google Hit Its Staggering Goal of Running 100% Wind and Solar Energy
It has reached a major milestone.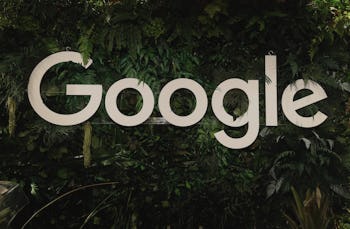 Getty Images / Sean Gallup
Google is now 100 percent powered by wind and solar energy. The company announced on Thursday that a series of new clean energy purchases means it now has over three gigawatts of capacity at its disposal — enough to match all of its energy demands in 2017. With this goal, Google claims it is now the largest corporate purchaser of renewables on the planet.
The company set itself the target last December. From the period between 2010 and 2016, wind energy dropped in price by 60 percent and solar by 80 percent. Google's senior vice president of technical infrastructure, Urs Hölzle, sad in a 2016 blog post announcing the goal that this proved "renewables are increasingly becoming the lowest cost option."
Google made three key moves to reach the goal. Sam Arons, the senior lead of energy and infrastructure at Google, explained on his LinkedIn page that the company has invested in 535 megawatts worth of wind capacity. That covers two lots of 98 megawatts from Avangrid in South Dakota, 200 megawatts with EDF in Iowa, and 138.6 megawatts from GRDA in Oklahoma. The new purchases form part of more than 20 commitments worldwide to buy renewable energy, covering countries like Sweden, Chile, and Norway.
"With solar and wind declining dramatically in cost and propelling significant employment growth, the transition to clean energy is driving unprecedented economic opportunity and doing so faster than we ever anticipated," says Gary Demasi, Google's director of global infrastructure.
But Google isn't just running a power cable from a wind turbine and hooking it into a server. These purchases fit into a wider plan, where Google signs power purchase agreements with wind farms that have a fixed-price structure. The energy is then sold to the grid at market rate. The data center actually runs off the grid energy at this point, which means it's mixed in with other sources like coal. The benefit to Google is that the center gets a constant, dependable stream of power. To ensure the center is using the same amount of power that comes from the generator, and thus meeting the "100 percent" target, Google matches the renewable energy credits from the generators to the amount of power sourced from the grid.
The Avangrid contract covers the entire output from the Coyote Ridge and Tatanka Ridge wind farms in South Dakota's Brookings and Deuel counties. The two farms will produce enough energy to power around 50,000 homes per year when the come online, and it forms part of Avangrid's 500 megawatt total wind power output in the state.
"Working with partners like Google who have made a commitment to 100% renewable energy for their global operations is exciting and inspiring," said Avangrid Renewables President and CEO Laura Beane. "This partnership creates a positive impact in these local communities, delivering jobs, new investment and economic development for rural America while advancing our country's energy independence."
In Iowa, EDF will supply 200 megawatts of power from the new Glaciers Edge Wind Project when it comes online in December 2019. Its construction is set to create over 150 jobs in the area. It will form part of the energy company's 1.1 gigawatt total portfolio of power in that state.
"We believe the private sector, in partnership with policy leaders, must take bold steps and that we can do so in a way that leads to growth and opportunity," Hölzle said last year. "And we have a responsibility to do so — to our users and the environment."
This man-made island could be the hub for thousands of wind turbines.