'Star Trek: Discovery' Captain Pike Casting Could Mean Spock is Recast Too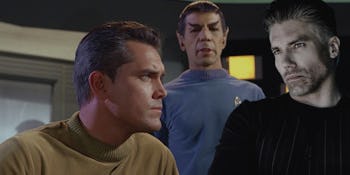 CBS
Anson Mount will become the fourth actor to play Captain Christopher Pike in the universe of Star Trek. But, does a new actor in this role also mean that Discovery could recast Spock, too?
On Monday, Entertainment Weekly revealed that Mount will play Pike in the new season of Discovery, which is expected to start filming in Toronto this month. Mount is known for his work in Hell on Wheels and Inhumans, though is about to enter into a whole new galaxy of notoriety with Star Trek. Captain Pike was first played by Jeffrey Hunter in the unaired 1965 Star Trek pilot episode "The Cage," which was later canonized as a flashback in the 1967 episode "The Menagerie." Pike was Spock's Captain on the USS Enterprise before Captain Kirk. In "The Menagerie" Pike — who was crippled and unable to speak due to to a space accident — was played by Sean Kenney. In the 2009 and 2013 films Star Trek and Star Trek Into Darkness, Pike was played by Bruce Greenwood, opposite Zachary Quinto as Spock.
Speaking to Inverse in February, Discovery showrunners Aaron Harberts and Gretchen J. Berg hinted at Pike becoming a major character in season 2 of the show but stopped short of revealing whether or not Spock would appear or not. Harberts said the opportunity to bring Pike onto Discovery would allow the writers to "delve into and flesh out a character who I think is a pretty darn heroic and selfless captain."
Notably, this is the second time Discovery has recast a major Trek character from the original series, who has already been recast once before. When James Frain was cast as Spock's father, Sarek he was not only taking over for Mark Lenard in the original series, but also Ben Cross, who played Sarek in the first 2009 reboot film. For his part, Mount is super enthusiastic about taking the part, tweeting on Monday about his longtime love for the classic Trek and saying the casting is "a dream I've had since around the age of 8." He even changed his Twitter profile pic to a shot of Bones pushing old Captain Pike around from "The Menagerie."
Does all this mean Discovery would recast Spock, too? It all depends on how much of the Enterprise we end up seeing. Maybe Captain Pike is beaming over to Discovery, and no one from Discovery will be visiting the Enterprise.
Which, if true, then it's possible that Discovery could finally be getting a new Captain, in the form of Christopher Pike. Which, would be exciting, but also tragic. We all know what the future has in store for poor old Chris. Star Trek: Discovery season 2 is filming now.