'Legends of Tomorrow' Season 3 Finale Must Solve These 3 Things
The show is a lot of fun, but it can stand to make some changes before Season 4.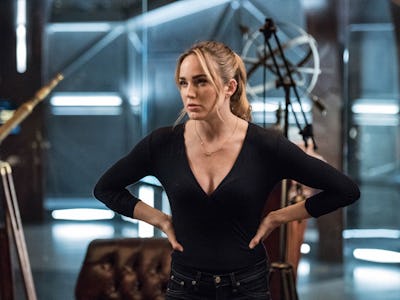 The CW
Out of nowhere, DC's Legends of Tomorrow became the show to watch as the strongest series out of the CW's flock of superhero content. But that only makes the stakes even higher as the show barrels towards the end of its third season, which will culminate in a finale between the Legends and their longtime nemesis, Damien Darhk (played by Neal McDonough, who continues to make Darhk feel fresh after almost three years in the role).
In the Season 3 finale of Legends of Tomorrow — which, by the way, will feature the return of Jonah Hex — the time demon Mallus (voiced by John Noble) will be let loose, free to wreak havoc upon the timeline. And it's up to the Legends, who have reluctantly teamed up with the stuffy Time Bureau and struck an extremely hesitant alliance with Damien Darhk, to stop Mallus.
As more established superhero shows like Arrow, The Flash, and even Supergirl endure some growing pains, Legends of Tomorrow is firing on all cylinders in its third season, a milestone year the other DC TV shows tripped up in their respective runs. Reliably fun and funny, Legends benefits thanks to a rotating cast of charismatic actors who can pivot between Super Friends-style kitsch and human melodramatics on a dime.
But that doesn't mean Legends is perfect. In fact, there are three, shall we say, rough spots that the show must solve by season's end. Before the finale, here are three things Legends of Tomorrow needs to course-correct before it can even think of rushing to Season 4.
1. Lights Out for Damien Darhk
Neal McDonough is a delight on screen, yet he's been Damien Darhk a lot longer than anyone could have reasonably expected. Originally the primary villain in Season 4 of Arrow back in 2015, Darhk has outlived his actual onscreen death long after the fact. He was in last year's Season 2 of Legends as part of the "Legion of Doom" (led by Flash nemesis, Eobard Thawne). And he came back this year as a minion of Mallus, a very uncharacteristic role that Darhk himself has become painfully aware of over the last few episodes.
Much as McDonough rules, it's about time for Damien Darhk to finally hang up his black Armani suits, before he overstays his welcome and he becomes a hollow shell of his former self.
2. How Do You Solve a Problem Like Zari?
There was a lot of hullaballoo over Zari, played by Tala Ashe, before Season 3 aired in the fall. As a modern reboot of the DC superheroine formerly named Isis, Zari came in with a lot of promise that has all but disappeared over time. It's not that Ashe is awkward on screen — in fact, she's one of the most fun to watch — but outside of possessing one of the plot MacGuffins Mallus needed, Zari hasn't been that significant to the series. In one recent episode, Sara (Caity Lotz) calls Zari like fifteen minutes in, and I didn't even realize she had been missing the whole time.
Zari could be a fun character, and Ashe fits in extremely well with the other actors. But Zari's gotta start stepping up a lot more into the spotlight, lest she become a dead weight on the Waverider.
3. Start Exploring the Multiverse
Legends of Tomorrow is, at its core, a time travel show. It's superhero Doctor Who. But while Legends insists on doing its own riffs on actual time periods ranging from Edo Japan to the Cold War, the premise is starting to feel limiting.
That the Legends can only travel to time periods on Earth-1 has forced the season's plots to feel cyclical. In Season 1, they just had to stop Vandal Savage, who was everywhere in time. In Season 2, "aberrations" moved the plot forward. And in Season 3, it's been "anachronisms," which is hardly any different.
The scope of the DC's Arrowverse is huge, but Legends is the only one capable of plotting course. The DC Multiverse was introduced in The Flash but has also played roles in shows like Arrow and Supergirl. But it's hardly had any impact on Legends of Tomorrow, which is just all kinds of backwards.
The Flash has given viewers a peek at the other "Earths," but what if Legends could actually drop in and explore them? Taking that a step further, if we're to believe that all the DC media are part of the multiverse, then imagine the Legends crashing into the DCEU. Or more realistically, the 1990 Flash series that aired on CBS with John Wesley Shipp (which was actually been referenced in this continuity before).
Point is, there's much more to the concept of Legends of Tomorrow than its producers have taken advantage of. There doesn't have to be some epic crossover once a year. Earth-20 Green Arrow and Earth-31 Flash don't have to be Oliver Queen or Barry Allen (so that takes care of actor contracts).
In the Season 2 finale, the Legends found the timeline muddied up with dinosaurs roaming around Los Angeles. That's what kickstarted the chase to correct the anachronisms in Season 3. Now, let's hope the finale has some way the Legends can venture off into a whole new dimension.
DC's Legends of Tomorrow airs Mondays at 8 p.m. Eastern on The CW.