'Legends of Tomorrow' Casts Tala Ashe as Isis for Season 3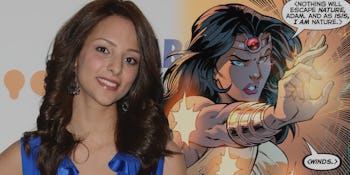 Warner Bros. Television/DC Comics
When Legends of Tomorrow ended its sophomore season on The CW, time was all sorts of fucked up. Luckily, such a messed-up, mixed-up timeline means it's pretty easy for deep cuts from DC's long comics history to make their Arrowverse debut. On Tuesday, the network announced that it has cast actress Tala Ashe to play one of these new show additions: Zari Adrianna Tomaz, more commonly known as Isis.
The first iteration of the Isis character actually made her debut on TV before making the jump to comics, as she graced the screen in CBS's 1975 live-action The Shazam/Isis Hour on Saturday mornings. That Isis, Andrea Thomas, was a counterpart to Captain Marvel and drew her strength from the Egyptian goddess Isis. In 2006's comic series event 52*, DC updated the character as Adrianna Tomaz, an Egyptian woman who was given her powers by Black Adam.
The Legends of Tomorrow version of the character is going to be quite different, though. According to The CW, she's a Muslim-American woman from the future — 2030 to be exact. Here's a statement:
Technology has brought about incredible change in her future — too bad human nature hasn't kept pace. Fear, prejudice and a lack of care for the planet have forced Zari to become a "grey hat hacktivist." A computer nerd with a wry, combative attitude. A woman living a double life who doesn't realize that she has secret, latent powers derived from an ancient, mystical source.
It's unclear if Zari, as she's called, will ever go by her classic superhero name Isis. As Archer acknowledged, it's sadly a bit of a loaded name these days.
Season 2 of Legends of Tomorrow is currently streaming on Netflix.