'Archer' Season 7 Premiere Serves Up Escapist 'Magnum, P.I.'-Inspired Adventure
With ISIS now defunct -- yet also too real -- Sterling and the newly minted Figgis Agency take on Hollywood.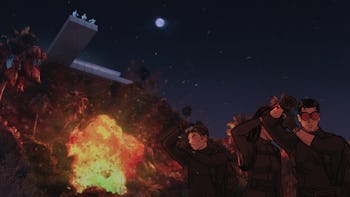 FX Networks
Freshly blacklisted by the CIA, the former ISIS crew kicks off Archer's seventh season in Los Angeles, where they're working as private investigators at the newly minted Figgis Agency. Hollywood intrigue, not global controversy, is the name of the game now, but the transition hasn't been as easy as they thought — with the ever-impotent Cyril (Chris Parnell) at the helm, clients have been scarce over the firm's two-month existence.
The season's first episode introduces glamorous, aging Hollywood starlet Veronica Deane, who's willing to pay big bucks for Sterling (H. Jon Benjamin) and co. to retrieve a disc containing some sensitive information. Elementary, right? But that was six months ago.
The premiere's opening scene is a flash forward to the season's future, which is, in a word, bleak. FBI agents are investigating a murder at Deane's sprawling Hollywood mansion, where a white-jacketed body is floating face-down in the pool. The "waiter," who's been spewing blood into the water since midnight, looks oddly familiar. As the shot moves along the water's surface, we realize why: It's Sterling himself.
Adam Reed, the show's creator, confirmed that season seven would be told as a flashback; "We finish up this season where we start in Episode 1," he said in an interview with Indiewire. "I guess the opening scene actually is the closing scene of the season and it's the first time we've done that." With his slick, suspenseful premiere, Reed has set the scene for the Archer gang to go full L.A. noir — and leave anything remotely real world behind.
When ISIS became a terrifying reality IRL, Reed had to act fast: FX's beloved spy agency — though they've certainly dabbled in some shady business — couldn't share a name with the real world's most fucked up terrorist organization. "It seemed like it was becoming harder and harder to find stories that didn't accidentally invoke something that's actually happening," he said, explaining the new season's turn toward escapism.
The first episode, full of references to old-Hollywood and disco-era detective dramas, is Reed's response to reality. Set among the sprawling mansions and palm trees of L.A., interspersed with Charlie's Angels-esque interstitials, the new season — quickly shaping up to be a parody of ultra-80s private detective series Magnum, P.I. — distances itself as far from 2016's grim reality as possible. Veronica Deane channels Ingrid Bergman, not Kim K; the villain is a Rottweiler-wielding millionaire lawyer in a bathrobe, not a thinly veiled Putin. Sterling, for one, fits seamlessly in, going full Tom Selleck with a sweet (though nonfunctioning) red Ferrari. The rest of the crew — barring Mallory, disgusted with the "concrete slab" they're stuck working in — ease right into their new roles as Californians and, well, private dicks.
It's a bit of a shift for those of us raised on 007-era Archer, but it doesn't feel forced; that's because the core of the show — the characters themselves — remains as hilariously racist, politically incorrect ("Mancy" — as in Drew — enjoys a revival), and incompetent as ever, managing to botch their first mission by failing to check who was really under their client's massive sunglasses, setting the stage for the dramatic second half of the season's opening two-episode story arc. Fans can rest assured: We're still riding into the danger zone — only this time, we're taking the freeway.