Ron Howard Responds to 'Solo: A Star Wars Story' Rumors, Teases Battle Scene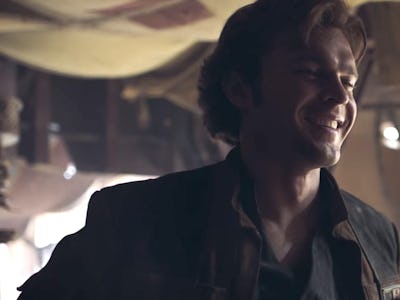 Lucasfilm
A few Star Wars fans had concerns that the latest update from director Ron Howard may mean Solo: A Star Wars Story would miss its May 25 release date. The Academy Award-winning director gave some relief to those worrying about the movie.
Howard tweeted on Friday that he was in the final sound mix for the upcoming Han Solo spin-off. When one Twitter user replied about the film not being finalized, the director tweeted again to confirm that editing and scoring for the film was completed in time for Memorial Day weekend. Another tweet from Howard on Saturday gave a quick glimpse of space combat in the movie.
"#May25. Edit is locked Score done. Right on schedule Hope you check #Solo out and find it fun," he said.
The Apollo 13 and A Beautiful Mind director joined the Solo production after the firing of co-directors Chris Miller and Phil Lord last June. Lucasfilm decided to replace the directing team due to time issues regarding the production of the film. Last week, Miller said the two would receive an executive producer credit for their work on the production.
Solo: A Star Wars Story will release on May 25 to kick off the summer blockbuster season. Starring in the lead role of young Han Solo is Alden Ehrenreich, along with Emilia Clarke as Qi'Ra and Donald Glover as Lando Calrissian. The movie follows the early years of the space rogue's career as he delves into the criminal underbelly of the galaxy.
This spinoff wasn't the only Star Wars movie with director issues. Jurassic World director Colin Trevorrow was the original pick to direct Star Wars Episode IX, but was removed from production last September due to a difference in creative visions with Lucasfilm. Star Wars: The Force Awakens director J.J. Abrams was brought in to finish the film.