Snapchat May Allow Facebook-Styled Data-Scraping: What to Know
Leaked screenshots revealed plans for the update.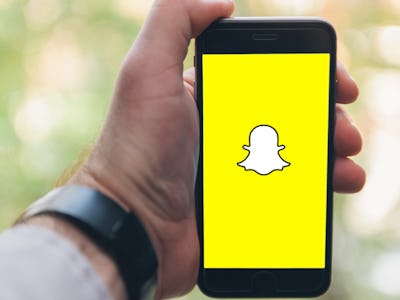 Flickr / ThoroughlyReviewed
It seems like Snapchat is working on a new update that could get the app into deeper waters than its largely hated redesign. It was discovered on Wednesday that the latest beta version of the app was testing a "Connected Apps" feature. This would allow third-party apps to connect to users' accounts and potentially siphon data in a similar way that connecting Facebook accounts to third-party apps led to the Cambridge Analytica scandal.
While this is nothing more than speculation at this point in time, screenshots of the Snapchat beta obtained by Mashable appear to reveal the app's next update will include this third-party access. The images showed that users could go through each of the apps they choose to connect and "control what it has access to." Before this Snapchat only allowed users to connect their accounts to two external services: Bitmoji, which Snap Inc. eventually acquired, and Shazam. Opening accounts to connect to various third-party apps could result in a data leak fiasco if appropriate measures aren't taken.
While this new feature might be a first for Snapchat, the app's privacy policy does mention that users' information could be harnessed through "third-party content links," which includes integrated services like Apple Maps or Lyft. The policy goes on to state that Snap Inc. is not responsible for how these applications collect or use users' information.
"Through these links, third-party integrations, and co-branded or third-party-branded services, you may be providing information (including personal information) directly to the third party, us, or both," states the policy. "You acknowledge and agree that we are not responsible for how those third parties collect or use your information."
This new third-party connection feature is still being tested, and Snap Inc. has not announced anything regarding this new feature, so there is a possibility that it could amount to nothing.
Regardless of what happens, it's crucial to review the policies of the apps that you connect to your social media accounts to ensure you understand the full extent to which your data is being used.