How a United Airlines Passenger Got a $10,000 Voucher Just for Getting Bumped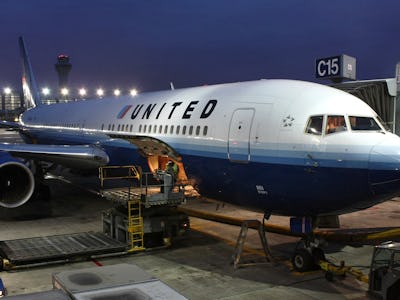 Wikipedia
What's that saying, a squeaky wheel gets the grease? On Thursday, a United Airlines passenger fired off a tweet storm when she was bumped off her flight and ended up walking away with a $10,000 travel voucher.
Allison Preiss, a communications director based in Washington, D.C. was told she couldn't board a plane to Austin on Thursday morning at Washington's Dulles International Airport because United had oversold the flight.
".@united offering $1K in travel credit for an oversold flight. If nobody bites, they will kick off the lowest fare passenger by pulling them out of the boarding line," she tweeted around 5 a.m. Eastern as airport passengers heard the news. "For a flight that THEY oversold. Unreal."
A few minutes later, Preiss realized she was the lowest fare passenger, and was told she wouldn't be able to board because of a broken seat.
Following these tweets, it seems Preiss was presented with a very impressive travel voucher.
"They really do not want to give me cash," she continued to tweet. "They just offered me $10,000 in travel credit. TEN THOUSAND."
On Friday, ABC news confirmed that Preiss had indeed been offered the lucrative voucher. "Yes, we issued this voucher per our policy," they said.
Priess later tweeted that the voucher is for United-operated flights only, "No codeshare or Star Alliance sadly," she said.
After United made headlines in April 2017 for violently dragging a passenger off of a plane, the airline made some changes to its bumping policies. The airline announced it would cut back on overbooking and increase its incentive payment for anyone voluntarily denied boarding to a cap of $10,000. Preiss managed to hit the maximum payout.
Despite ameliorating its bumping policies, it has not been clear skies for United since the 2017 incident. The airline recently came under fire after a French bulldog puppy died in March after a flight attendant forced the dog's owner to place it in an overhead bin for a three hour flight.
Given all the bad publicity, a few lucrative travel vouchers can't be the worst thing for United's fragile brand.