Can You Sue if Your Dog Dies on a Plane? This Lawyer Says Yes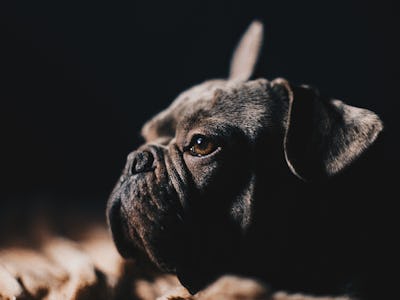 Unsplash / Ryan Walton
An investigation is now underway to determine whether criminal charges can be brought against United Airlines for the death of a French bulldog puppy that was allegedly forced into an overhead bin during a flight.
Placing animals in the overhead compartment was already against United Airlines' policy, but that was unfortunately not implemented on Kokito's flight. The question now becomes, can the dog's owner sue?
"A consumer's ability to sue the airline will usually be governed by negligence law," Ontario-based lawyer Paul Mitassov told Inverse. While Kokito's owner could sue, it won't be easy.
"To succeed," Mitassov explains, "[They] will have to prove that the airline knew about the pet, the airline had a duty to take care of the pet, the airline breached their duty of care, and there is no statute or contract that excuses the airline from liability."
Prosecutors will be able to prove rather quickly whether or not United knew about the pet's travel plans.
"If the consumer paid a separate 'pet fee,' this is easy." says Mitassov. "[But] if no separate fees were paid, the airline can argue that it did not know about the pet's existence or needs."
The pet fee would also come in handy to decide whether or not the airline has a duty to take care of the pet. According to Mitassov, if the dog's owner paid extra to bring the pet on board, "the airline agreed to transport the pet safely in exchange for said fee."
However, now that United claims the flight attendants were unaware of the puppy being inside the pet carrier, it could be harder for the pet's owners to prove that the airline breached their duty of care. There could also be hidden statutes or contracts that excuse the airline from liability. "Many form contracts include extensive liability waivers," Mitassov said. "It is quite likely that the airline will use such a liability waiver clause as a defense."
United, a company familiar with PR disasters, is now claiming that the flight attendant who ordered passenger Catalina Robledo to put her pet carrier in the overhead bin didn't realize there was a pet inside the carrier. However, multiple passengers from the Houston-to-New York flight have shared their own testimonies on social media, many of whom claim the puppy's barks could be heard from inside the bin.
The untimely death of the 10-month-old puppy, Kokito, has not only resulted in national outrage but bipartisan action. Senators Catherine Cortez Masto (D-Nevada) and John Kennedy (R-Louisiana) introduced a bill on Thursday to protect future traveling pets and prohibit airlines from storing animals in overhead bins. The Welfare of Our Furry Friends Act, or WOOFF Act, is already garnering bipartisan support.
Prosecutors for Harris County District Attorney's Office in Houston have started an investigation to determine if criminal charges against United are warranted. Meanwhile, United is now fighting more bad press after mistakenly flying a family's dog to Japan when it was meant to fly to Kansas, just one day after Kokito's death.