These Tesla Semi Photos Reveal the Incredible Feat of Engineering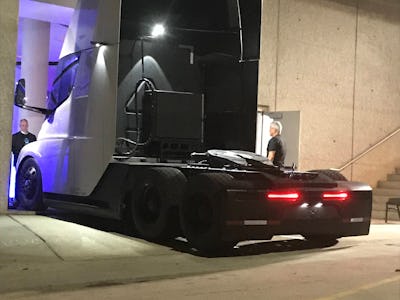 ryanofthedonnell/Reddit
Tesla's upcoming electric truck was spotted in a series of images on Wednesday, and it looks like CEO Elon Musk could be on track to revolutionize trucking. The photos, posted to Reddit, shed light on how the company plans to pull off a product that was revealed in November 2017 amid a flurry of skepticism.
A Reddit user called "ryanofthedonnell" shared images from a PepsiCo event held at Reunion Tower in Dallas, Texas. PepsiCo announced its plans in December to order 100 electric trucks for when they enter production in 2019, but an employee at the event reportedly told the user that it was "a drop in the bucket" compared to how many the company wants to order. The images show how the $150,000 electric truck, which will travel for 300 or 500 miles per charge depending on configuration, will aim to redefine the roads.
Prior to Tesla's announcement, there was skepticism about whether the company could create a suable electric truck. Two researchers from Carnegie Mellon University said it would have limited range, high price, and low space for cargo. Nikola Motor, which is developing a hydrogen alternative, said it would be "very bad" for Tesla. Musk defied expectations with a truck capable of serving the 80 percent of trucking routes that are 250 miles or less, with a price tag just slightly higher than an average diesel truck.
The user was also able to provide some clarity on other aspects of the vehicle, noting that each of the four wheels in the rear had its own individual motor to maximize traction control. While the organizers "MADE SURE I did not get a photo of the two screens and the battery/nav/trip/features information," external impressions suggested "it's better than what originally announced spec wise."
A big unknown is how much the trucks will cost to run. Tesla touts the fuel savings as a big reason to switch, consuming just two kilowatts per mile with a price that compares well to regular gas. Tesla plans to install solar megachargers every 400 miles to facilitate speedy recharges, but time will tell whether it can plug the gaps in trucking range at a good price.
The truck isn't due for another two years, but it's already got the industry excited — public preorders reached over 250 just two months after the reveal.