Tesla Got Its Biggest Semi Truck Order Yet From Pepsi
A lot of big-name companies are interested in electric trucking.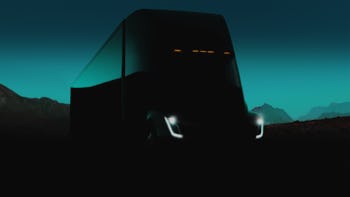 Tesla
Some pretty popular beverage companies are thirsty for Tesla's new electric semi truck.
A week after Budweiser beer maker Anheuser-Busch placed an order for forty of the big rigs, PepsiCo stepped in and preordered 100 of the Class 8 electric-trucks on December 12.
That is the largest known order of these trucks to date and comes only a month after they were announced at an event at the Tesla Design Studio in November. Tesla has made no comments regarding any orders of this new vehicle, which is expected to be in production by 2019.
According to a report by Reuters a Pepsi executive said the purchase comes in light of the corporation's efforts to reduce fuel costs and carbon emissions.
Elon Musk's company has made big strides in trying to convince the trucking industry that low-cost, electric rigs are a possibility, despite longstanding concerns electric vehicles would struggle to achieve the necessary range to make long-distance trucking feasible. The range announced at the unveiling event was 500 miles, which Musk pointed out would mean the truck could handle 80 percent of shipping round trips, as these are 250 miles or shorter.
Based on a running tally compiled by Jalopnik, an estimated 300 or so of these trucks have been ordered by various companies. Walmart, Sysco, J.B. Hunt, and now PepsiCo are some of the biggest names that want to get their hands on these new pollution-free truck.
According to CostOwl a standard, diesel-burning semi truck can run you as low as $80,000 and can go up to $150,000. Tesla's Semis will start at $150,000 and be as expensive at $200,000, though a big part of Musk's argument for the Semis is they will be considerably more cost-effective in the long run.
While ordering these electric trucks might a bit pricier than a traditional big rig, a lot of companies seem willing to take the initial hit to save on gas money and reduce the pollution their fleets of vehicles produce. Pepsi has made one of the biggest commitments yet to Tesla's vision, and it's unlikely to be the last.