Watch Elon Musk Pour Flaming Absinthe Over Tower of Glasses
Musk was visiting Israel on a business trip.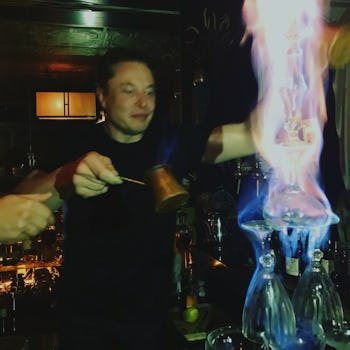 Elon Musk/Instagram
Elon Musk has had a busy few days in Israel. The Tesla and SpaceX CEO posted a video to his Instagram on Monday taken in a Jerusalem speakeasy, where in between reported meetings with high-profile officials, he learned to pour flaming absinthe over a tower of glasses.
"Everything's better with fire," Musk said in the caption on his video, which also included three images of a beaming Musk admiring his handiwork. The visit was part of a wide-reaching trip that also included a visit to the Masada clifftop fortification, a UNESCO World Heritage Site, and a visit to some of Jerusalem's restaurants. Musk also visited prime minister Benjamin Netanyahu, who described Musk as "perhaps the greatest technological visionary of our time" and "a genius" in a press conference in the Negev, while it was reported he also visited computer vision startup Cortica.
As a key player in rocket science, it's perhaps unsurprising that Musk thinks everything could do with a little fire. After SpaceX launched his red Tesla Roadster using a Falcon Heavy rocket in February, the world's largest rocket in use, Musk seemed downright giddy at the post-event conference, referring to how he was "trippin' balls" and "it's still trippin' me out."
While he may have been in his element at the bar, Musk's trip may have served a key purpose. The Cortica visit comes at a time when Tesla is developing its Autopilot fully autonomous driving system to enable cross-country road trips over the next few months. Originally using Israeli startup Mobileye's system, Tesla switched to its own in October 2016 and started offering pre-orders for autonomy for around $3,000.
If Musk's trip went to plan, Cortica could help power the next generation of autonomous driving. While Musk was forced to admit in February 2018 that he "missed the mark" on his previously-promised deadline of 2017, the CEO hinted to investors in the earnings call that a breakthrough could come as soon as six months time.
It's not the first time Musk has documented a business trip on his Instagram. A November 2017 trip to Turkey to meet president Recep Tayyip Erdoğan led to discussion about SpaceX co-operation. The timing of Musk's trip was questionable, though, as it came soon after a crackdown on intellectuals, with scientists including NASA's Serkan Golge sent to prison.