Why Elon Musk's Israel Trip Could Boost Tesla's Autonomous Car A.I.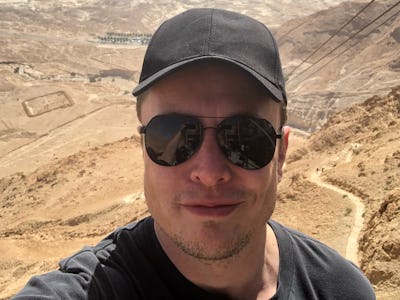 Elon Musk/Instagram
Elon Musk has been documenting his trip to Israel on Instagram this week, with impressive displays of flaming absinthe in Jerusalem bars and gorgeous views of the Masada clifftop fortification, a UNESCO World Heritage Site. But while it looks like Musk was taking a much-needed break from his work with SpaceX, one report suggests his trip could lead to a boost for Tesla's autonomous car development.
The Times of Israel reported Tuesday that Musk is visiting the country to speak with Cortica, an Israeli startup founded in 2007 that uses unsupervised machine learning to create a computer vision system. The company has offices in Tel Aviv and New York, and it's raised around $60 million.
A Tesla spokesperson denied to Inverse that Musk was in Israel to discuss a collaboration between the company and Cortica.
Musk has undertaken similar visits before to boost Tesla's autonomous car capabilities. A previous visit two years ago saw the CEO quietly visit partner Mobileye's sensor plant in Jerusalem to see future applications for the technology, Globes reported at the time. The partnership enabled the Tesla Autopilot feature, but over the summer of 2016 it deteriorated as Tesla wished to switch to an in-house system to work toward full autonomy through updates.
Hardware 2, a semi-autonomous system powered by an Nvidia Drive PX 2 that started shipping in October 2016, is the Tesla-designed setup that the company claims offers the necessary cameras, radar and ultrasonic sensors to power cross-country autonomous road trips. Tesla missed its 2017 deadline to ship the feature, however, and Musk was forced to admit in February 2018 that he "missed the mark."
While Musk has expressed confidence that he could offer the feature as an update to existing cars for around $5,000 within the next six months, it's possible the Cortica deal could help meet its goal. The company's website notes that the technology could help autonomous cars react more effectively to different road.
It's a goal more in line with Tesla's own ambitions: Musk said that Tesla could have met the deadline by shipping a "somewhat brittle" solution that would have worked on a small number of roads. Cortica could enable the company to meet the expectations outlined on its autonomous driving pre-order page: that of a voice-activated car that takes the user wherever they want to go.
This story has been updated with comment from Tesla.