Elon Musk Gets Inspired by Turkey's Founder: 'Choose Science'
Musk quoted Mustafa Kemal Atatürk during his visit to the mausoleum.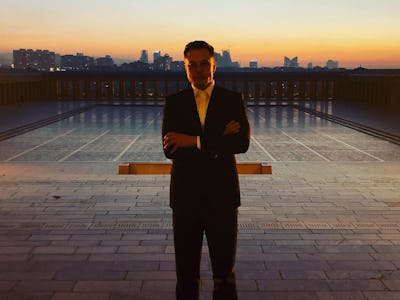 Elon Musk
Elon Musk has paid his respects to the founder of the Republic of Turkey, Mustafa Kemal Atatürk, as the country commemorated the 79th anniversary of his death on Friday. The CEO visited Atatürk's mausoleum during a trip to the country, where he also met with Turkey's president and attended a space satellite conference. The trip could mean big news for Musk's Tesla, and SpaceX ventures, aimed at popularizing electric cars and sending humans to Mars, respectively.
During his visit to the capital city of Ankara, Musk shared a quote from Atatürk on his Twitter page that chimes with his love of science: "If one day, my words are against science, choose science."
Reuters reports that Musk met with President Recep Tayyip Erdoğan on Wednesday at the presidential palace complex, prior to his mausoleum visit. The pair discussed how Musk's companies could co-operate with the country, including the prospect of launching Turkish satellites into space. Turkey hopes to launch Turksat 5A in 2020 and 5B in 2021.
"We also exchanged views on what sort of joint operations Turkish firms could have with the SpaceX and Tesla companies," presidential spokesman Ibrahim Kalin said to the state-run Anadolu news agency.
Although the country's founder valued science, Turkey is not a welcoming place for intellectuals right now. Since last year's coup attempt, the government has arrested tens of thousands of academics and officials, including NASA scientist Serkan Golge. This has been coupled with constitutional reforms that place more power in the hands of the president.
The anniversary of Atatürk's death is a big moment for the country, with a day of events scheduled in several municipalities. Hürriyet News reports that thousands are expected to visit Ankara, with Erdoğan participating in an official ceremony at the mausoleum.
Musk also shared an image of Atatürk's tomb on his Instagram profile:
The social media posts have received thousands of supportive comments, with Turkey flag and love heart emojis.
"The attention Mr. Musk's remarks praising Atatürk is getting from Turks is a reaction to the increased attacks against the republic's founder," Gonul Tol, the director of the Center for Turkish Studies at the Middle East Institute in Washington, told Bloomberg. "There has always been a fault line between defenders of Atatürk-style secularism and Islam."
Following his visit to Ankara, Musk planned to travel t Istanbul, where he will attend the third Global SatShow satellite conference.
Beyond this week's trip, Musk has big plans for expansion into Turkey. Tesla has announced plans for 10 supercharging stations in the country, which would allow owners of the company's electric cars to charge up their vehicles at up to 120 kilowatts. Using a supercharger, a 90kWh Model S can reach 80 percent capacity in just half an hour. At the time of writing, there are 1,032 supercharger stations operational worldwide. The charging points enable long road trips without too much slowdown from recharge time, and will be critical if Tesla wishes to expand its operations further.
Is the Tesla roof worth the cost? Check out this video to find out.