Elon Musk Needs to "Grow Up," His Father Says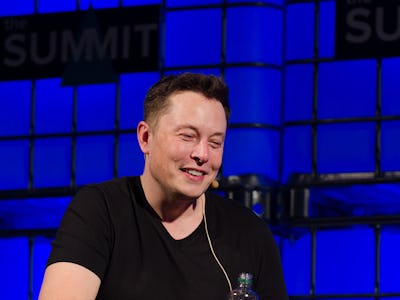 Flickr
Professional success doesn't always translate to a peaceful personal life. Just ask SpaceX Founder Elon Musk, the technology tycoon and optimistic future prognosticator who is famed both for his business acumen and unparalleled intellect. According to his father, Errol Musk, with whom the younger Musk has had a strained relationship throughout his entire life, Elon Musk is a just a large-brained man-child.
"Elon needs to grow up," Errol Musk told Daily Mail on Sunday. "He needs to get over himself. I'm not going to hit back. I'm going to wait until he comes to his senses."
No, Errol Musk isn't talking about his son's plan to transform public transit systems into a network of pressurized underground tubes. And he isn't talking about the Telsa CEO's desire to colonize Mars. Nor is Errol Musk referring to his son's ongoing trolling battle with satirical new site The Onion. Errol Musk is upset with Elon Musk because of remarks his son made about in a Rolling Stone interview in 2017, in which Elon Musk described his father essentially as akin to Satan.
"He was such a terrible human being," Elon Musk told Rolling Stone. "You have no how bad. Almost every crime you can possibly think of, he has done. Almost every evil thing you could possibly think of, he has done."
Elon Musk has also said that he will not allow his children to meet their grandfather. In his book Elon Musk: Tesla, SpaceX, and the Quest for a Fantastic Future, Ashlee Vance spoke to the SpaceX founder about his childhood relationship with this father.
"It was like misery. He's good at making life miserable—that's for sure. He can take any situation no matter how good it is and make it bad. He's not a happy man," Elon Musk told Vance. "I don't know how someone becomes like he is. It would just cause too much trouble to tell you any more."
Elon Musk's cryptic criticisms have since become a bit more clear. As the Daily Mail pointed out, Elon Musk may have been referring to the time Errol Musk shot and killed three men who were attempting to break into his house as one of his purported crimes. Errol Musk was cleared of all charges because the killings were ruled self-defense.
Still, it seems like there is more to this family feud than the public knows. Sadly for those who want to see Musk harmony, it doesn't appear that there is going to be any reconciliation in the near future.
"He's having a tantrum, like a spoilt child," Errol Musk told the Daily Mail. "He can't have what he wants and now I am apparently an evil monster."
Correction 3/19/18: In the original version of this article, Ashlee Vance was mistakenly identified as female. Vance is male, and the article has been updated to reflect that fact.