March Madness: How Did A.I. Predict The First Two Rounds?
The swarm would still be winning your office pool.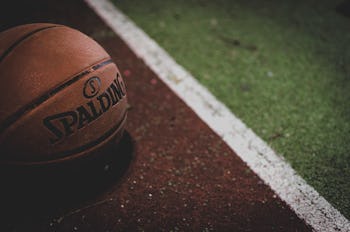 Unsplash / Sabri Tuzcu
A "swarm" of college basketball enthusiasts, assisted by artificial intelligence, correctly predicted 60 percent of the 2018 NCAA Tournament's first 48 games, an analysis by Inverse has found.
Of the 48 games in the first two rounds of the tournament that finished on Sunday, the 50 basketball fans who took part in Unanimous AI's hive-mind styled experiment incorrectly predicted the outcome of 19 games. These wrong forecasts included that Virginia would beat UMBC, Creighton would beat Kansas State, Wichita State would beat Marshall, North Carolina would beat Seton Hall, TCU would beat Syracuse, and Arizona would beat Buffalo.
Due to the swarm's incorrect projections in the first round, the second round forecasts gets a little messy. The hive mind was only able to precisely predict five of the second round's match-ups and outcomes.
Ahead of the "Sweet Sixteen" portion of the tournament that gets started on Thursday, here are a selected few of the second round games it correctly predicted:
Purdue beat Butler (76-73)
Texas Tech beat Florida (69-66)
Gonzaga beat Ohio State (90-84)
Michigan beat Houston (64-63)
Duke beat Rhode Island (87-62)
On Tuesday, Unanimous A.I. will be "re-swarming" the Sweet Sixteen round as well as the "Elite Eight" round that follows.
"We're analyzing our results from the first round and the round of 32 and working to identify strong individual performers using a variety of algorithms to identify and invite the strongest participants to populate our prediction swarms for the [next rounds]," Chris Hornbostel, manager of swarm operations at Unanimous A.I., tells Inverse.
To predict the result of this and other games, Unanimous A.I. used what's known as swarm intelligence to forecast the week's slate. About 50 college basketball fans worked together as a hive mind to make picks. As you can see in the animation below, each participant controlled a little golden magnet and used it to drag the puck toward the answer they thought was the most likely outcome. As the users saw the puck move toward a particular outcome, it triggers a psychological response. They readjusted their decision-making, building toward a consensus.
Even with this methodology, the hive mind is still subject to errors. Since the collective intelligence of this program stems from humans, it's vulnerable to unexpected upsets, like UMBC's historic take down of top overall seed Virginia.
Here's Unanimous A.I. founder Louis Rosenberg explaining his technology in a 2017 TED Talk:
While UMBC's unanticipated victory over Virginia might have eliminated the final perfect brackets, the hive's predictions are still sitting in the 89 percentile of ESPN brackets, according to Joe Rosenbaum, COO of Unanimous A.I. That's good enough to probably still be winning your office pool.
Stay tuned for the swarm's predictions of the Sweet Sixteen round and the Elite Eight later this week.