Apple Patent Reveals MacBook Key-Free Keyboard, and It Sounds Great
This could be a huge change for the MacBook.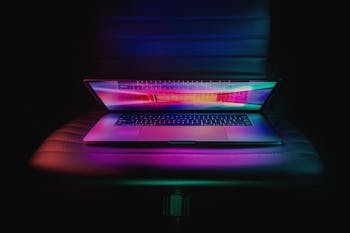 Unsplash / Ash Edmonds
Apple was granted a patent on Thursday for a keyboard without any keys, which has the ability to "morph" into context-sensitive buttons for active applications. The new filing, which comes just days after a patent for a dual screen MacBook, suggests the company is exploring ways to expand the Pro touch bar in a unique and intelligent way.
The filing with the United States Patent and Trademark Office (reported by PatentlyApple) details a system that isn't quite the same as a standard touchscreen, but offers greater flexibility than a standard keyboard. A combination of pressure sensors and haptic feedback enables the system to simulate the feeling of pressing down to activate a key, while the display panel allows quick changes fur uses like iTunes music input, gaming and other button layouts.
Apple has long pushed for touchscreens on devices, ever since Steve Jobs unveiled the iPhone at a 2007 event that highlighted its ability to change button layouts compared to smartphones of the day. But while the iPad brought this to a larger screen in 2010, it was only with the 2016 launch of the MacBook Pro that Apple finally brought a thin touch strip to its laptop retaining the rest of the keyboard in the process. Designer Jony Ive hinted at the time that the "touch bar" was a sign of things to come.
A screen that can simulate buttons sounds like science fiction, but Apple has been quietly experimenting with such ideas in existing products. The iPhone 7 ditched the home "button" in 2016 in favor of a moving pad, which when pressed activates the Taptic Engine that can produce a vibration lasting just 10 milliseconds to simulate a button. Apple uses similar technology on the Apple Watch and MacBook, where a hard press on the touchscreen or trackpad produces a short "tap." Testing this is easy: switch one of these devices off, and you'll find the home button and trackpad no longer "click."
Apple patents a number of ideas that sometimes never make it to production, but the touch bar's ability to scrub through a video, pick out editing tools and add in emoji shows why a full-size variant would be a great addition to the line.