Toshiba's Augmented Reality Glasses Try to Put Entire Laptop in Your Eye
With an eye on the business world.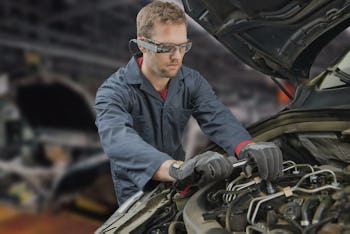 Toshiba
Augmented reality glasses have been heralded as tools for everything fro helping organize your life to taking video games to the next level, but no singular pair of high-tech spectacles have really caught on with the mainstream just yet.
Regardless of the mixed responses predecessors like Google Glass have received, Toshiba is diving head-first into the market with its dynaEdge AR Smart Glasses, which specifically targets business partnerships. Starting at $1,899, these glasses are the first wearable Windows 10 PC. They're like a desktop computer in headgear form, and the Toshiba team recently stopped by the Inverse offices to give a demo.
These are nothing like Snap Spectacles. Instead of helping users post on social media this new gadget is aimed at making the lives of factory workers, repairmen, and electricians simpler by letting them view documents, record and send photo and videos right from their glasses.
If you've every had to do inventory in a cluttered warehouse, having to continuously look down at a piece of paper quickly get annoying. Toshiba wants to put all of that on a tiny screen right next to your eye, so you don't have to carry around paper, binders, or manuals. Much like any new tech product, this headset has potential, but the current version is still pretty clunky.
What Works Right Now
The dynaEdge glasses are simply a PC in your glasses, so companies that want to begin using them don't need to retrofit their entire office with a new operating system. They can simply start incorporating these glasses into their workflow.
These glasses also take tech support a step further. Instead of having to sit on the phone and try to describe the piece of equipment you're fumbling with, these specs allow you to take a point-of-view picture of what you're looking at and send it to who every you're on the phone with. The tech guru on the other end of the line can then annotate the photo and send it back to you.
What Still Needs Work
The concept of this new AR eyewear has promise, but it's the hardware that lets it down. The only way to view the desktop is through a tiny screen that you can position at the upper or lower corner of your eye. Focusing on what directly in front of you and then glancing over to a tiny screen can be a little disorienting after some time.
The navigation tools aren't the smoothest either. The side of the headset has a touchscreen that was a little faulty when I tried it during the product demo. The other option is to use directional arrows found on the PC portion of the device. But that kind of defeats the hands-free aspect of these glasses.
All in all, the driving idea of giving workers better access to information at a glance is definitely something that merits attention. But it's going to need a few more iterations in order to seamlessly pull this off.