Wahoo! Google Maps is Turning into Mario Kart for Mario Day
Yes, there's a Mario Day.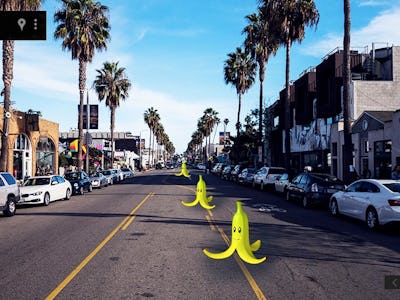 Google Maps
If you're on the road this Friday, watch out for rogue turtle shells, banana peels, and any recklessly driving mushroom children you may encounter: Mario is invading Google Maps.
As part of its Mario Day celebration on March 10 — MAR10 = MARIO — Google is adding a new feature to its maps service. For a limited time, you will be able to transform the arrow that typically represents your car into an animation of Mario driving his kart along your route.
To morph into the world's most famous plumber, just press the golden question mark insignia that shows up on Google Maps when you're getting directions as you normally would (seen in the Reddit post above). After tapping the question mark, Google Maps will inform you that it's, "Mario Time!" Then you can press the "Lets-A Go!" button, and you will be on your way.
If you can't see the question mark, don't worry. The feature isn't available to everyone yet, but it will be accessible for a full week starting on Mario Day, according to TechCrunch.
Google started alluding to a possible Mario Kart collaboration in a tweet posted on Thursday, and people quickly picked up on the gimmick and posted screenshots on Reddit and imgur.
As Tom Warren at The Verge pointed out, this isn't the first time Google has populated its map with fictional characters. A similar feature turned the location marker into an X-Wing or TIE Fighter to market the release of The Force Awakens in 2015, and Google Maps transformed into a game of Ms. Pac Man to celebrate April Fools Day in 2017.
As fun as it is to masquerade as a mustachioed Italian cartoon, the Mario Day feature is also a savvy advertising move.
It's easy to think of Google Maps as a utility because it's so omnipresent in our lives, but at the end of the day, it's a product that can serve us incredibly effective advertising. Google definitely got me — I'll be playing Mario Kart as soon as I get home.