International Women's Day: How to Support #PressForProgress Online and Off
There are ways to participate beyond using a hashtag.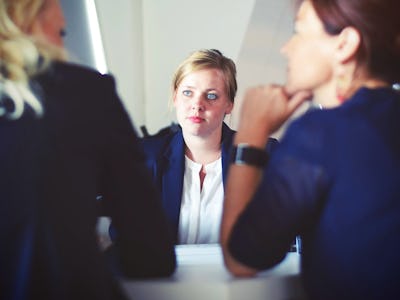 Pexels
With International Women's Day being celebrated on March 8 this year, folks around the world will champion gender equality by partaking in this year's theme #PressForProgress.
Following the momentum of campaigns against sexual harassment such as #MeToo and #TimesUp, the possibilities for supporting #PressForProgress are bountiful this year.
"Let's make #PressForProgress about being open about what each and every individual commits to do in 2018," Michelle Peluso, chief marketing officer at IBM and leader of IBM's Woman's Initiative, tells Inverse.
Because this theme is all about pushing for both open dialogue and action, Peluso explains it's vital to talk about what's working, what's not working, and what could be improved to further women's equality. "Let's share more stories about those critical mentors, allies and advocates in our lives," she says.
How to Take Part in #PressForProgress
The International Women's Day website offers many resources on how best to join a rally or attend an event to support gender equality. You can head to their events page for the most up-to-date happenings throughout the month.
Events on the big day will take place in cities throughout the U.S., and will include networking meet ups, ladies' happy hours and web seminars for those who can't make it IRL.
For example, in New York, Ladies Get Drinks will take place at Tictail Market at 6 p.m. Eastern, inviting female artists and entrepreneurs to meet and celebrate IWD.
On the web, Diversity Best Practices will stream a live seminar at 11 a.m. to examine how viewers can #PressForProgress. For discussion on women in the workplace, you can tune into a webinar presented by Catalyst, also at 11 a.m., discussing career paths and employment.
There are also ways for teachers and parents to get kids involved in International Women's Day, and the site offers them downloadable materials including activity booklets and fact sheets to celebrate the day.
UN Campaign
The United Nations is also recognizing International Women's Day's significance and the many relevant women-related movements surrounding it. The UN is inviting folks to join the conversation through its social platforms by using the hashtags #IWD2018 and #TimeIsNow. On March 8, the organization will also be holding a panel on issues women still face today. The speakers include the UN Secretary-General, UN Women Executive Director, actress Reese Witherspoon, and Black Panther star and playwright Danai Gurira.
You can watch a livestream of the event at 10:30 a.m. Eastern.
Supporting Women's Initiatives Through Brands' Donations
Many corporate and startup brands are taking initiative and donating proceeds to women's organizations this year. From beauty and skincare labels to fashion items, you can take part by simply shopping for your favorite products.
For example if you're into whisky, this is the perfect time to pick up a limited edition bottle of the first woman version of Johnnie Walker's Scotch Whisky, dubbed the "Jane Walker." For the first time ever, the century-old brand is launching packaging featuring a woman's figure to celebrate "women who lead the way." And drinking the scotch will help support women's organizations, like Monumental Women and She Should Run, because the distillery will be donating $1 from every bottle made.
Pita chips brand Stacy's is releasing limited-edition bags of their chips called, "Rising to the Occasion." The packaging not only celebrates women with their design, but the company will also be donating up to $100,000 to women's initiatives for equality in the culinary field.
Recruiting Women to Tech
Even tech companies like Apple are partaking in IWD by trying to resolve a major issue: the lack of women in tech. If you happen to be in Paris on International Women's Day, the company will be holding a "corporate recruiting event" at its Paris flagship store, Apple Marché Saint-Germain.
Everyone Must Support IWD, Not Just Women
Overall, the #PressForProgress theme is a way for everyone, not just women, to get involved in Women's Day this year by pushing the conversation forward, says Peluso.
"We aren't going to bend the curve until men feel as accountable and committed as women do to make inclusion a real priority and move faster," she says.
"My best hope for this International Women's Day is that the #PressForProgress isn't perceived as a women's issue. In fact, let's let the women take a breather. Let's elevate the dialogue to how all constituencies need mentors and allies. After all, both men and women are diverse in their own right and fighting for full inclusion globally."