On International Women's Day, Women Use Tech to Change the Game
"With a hashtag, it's no longer just one woman sharing a story."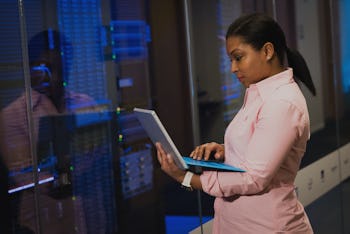 WOC in Tech/Flickr
Against the backdrop of the #MeToo and #TimesUp movements, on International Women's Day, social media will play a key role in pushing this year's theme: #PressforProgress.
Over the past year, women have used tech platforms to really voice their frustrations over the inequality and harassment they've experienced at work, with Hollywood and Silicon Valley particularly in the spotlight. #PressforProgress is asking Women's Day participants to get into the "gender parity mindset" by partaking in online activism to challenge inequality and draw visibility to women's achievements.
It's no surprise that women have gravitated towards social media to sound off on issues of inequality. April Wensel, the founder of Compassionate Coding, tells Inverse that women in Science, Technology, Engineering, and Mathematics (STEM) realize social media's benefits as an extremely public platform.
"It's the polar opposite of the silence many women — including me — were given as our only option to deal with harassment or bias early in our careers," says Wensel, whose software company focuses on fostering inclusive and collaborative development environments.
Women in male-dominated fields like tech and science have traditionally been cautious to speak up, fearing lawsuits or industry blacklisting. But that's starting to change. "Enough women have shattered the silence now, though, that I feel like I can talk about negative experiences and know that I'm in some sense protected by the public nature of it," Wensel says. "Even if I get detractors, I also know I have reliable supporters."
Female politicians have also taken advantage of social media to show constituents they take issues of inequality and harassment seriously. Recent research from Pew shows that in the past year, 44 percent of members of Congress raised the issue of sexual harassment on their official Facebook page. Women legislators, however, used the platform at a rate that was "almost twice as high as the percentage of men in Congress who did so (72 vs. 37 percent)."
From Hashtags to the Workplace
When it comes to actually breaking into STEM industries, women still unsurprisingly find it harder to make a career there, despite countless initiatives to "teach girls to code." In fact, it's been found that tech jobs' recruitment environment is so unwelcoming — thanks to the promotion of a competitive environment rife with sexist jokes and imagery — many women turn away before they even apply for the available positions.
Tech giants like Apple are trying to take stock of this issue and recruit more women.
On International Women's Day itself, March 8, the company will hold a "corporate recruiting event" at its Paris flagship store, Apple Marché Saint-Germain.
One could argue the push for better treatment of women in tech, like stronger recruiting tactics, has blossomed out of the efforts by women to highlight the issue on social media.
"Social media allows women to coordinate their efforts across the world," Wensel says. "With a hashtag, it's no longer just one woman sharing a story, but a chorus of strong voices."
When it comes to tech, women are also mobilizing to take inequality and parity matters into their own hands. Upon realizing the RSA Conference's panels will be male-dominated, this year a group of women are organizing their own computer security conference. It will be presented as an alternative to attendees during the April RSA Conference in San Francisco.
"Social media helps amplify our efforts for greater impact," Wensel says. "I often talk about the many problems in the tech industry, but one positive aspect is the power it gives us to use social media to push for positive change."