Elon Musk Shows Love for The Boring Company with the Cheesiest Rock Ballad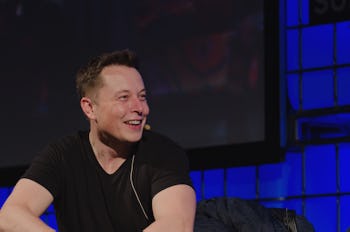 Heisenberg Media
In a rare display of near-human emotion, on Friday, Elon Musk paid tribute to his Boring Company machine in the dadliest way possible.
The SpaceX founder, who is apparently a fan of seventies adult contemporary, posted a picture of himself touching the Tunnel Boring Machine (TBM). He captioned it with lyrics from Dan Hill's 1978 ballad "Sometimes When We Touch." Musk didn't provide any context for the photo or the song, but he didn't really have to.
"Deep in the hole with my boring machine," he writes on Instagram. "Sometimes when we touch, the honesty's too much." Get a room, you two — this is a family website.
The connection between a giant hole digging machine and Dan Hill's love song is not immediately obvious. But Musk's stoic stare reads serious — frankly, this is the happiest we've ever seen him, with the notable exception of that one time he got to use a flamethrower.
With Falcon Heavy news still dominating the Elon Musk news cycle less than a month after the big launch, we haven't heard many updates on The Boring Company. He did recently state on Twitter that The Boring Company could build San Francisco's second Transbay Tube at "a tenth of the cost and a fifth of the time," though it doesn't seem there are formalized plans for that in the works.
Musk created The Boring Company as a response to Los Angeles' totally unreasonable traffic situation. The company, which plans to create various loops and "hyperloops," including a tunnel from New York to Washington D.C., is still in its nascency — but it's proven itself a successful hat and flamethrower manufacturer.
Clearly, Musk and his machines have a very special relationship the rest of us can't understand. Let's just hope the Falcon 9s don't get too jealous.