Facebook Apologizes for Censoring Famous, Nude Female Sculpture
Facebook is a teenage boy in art history class.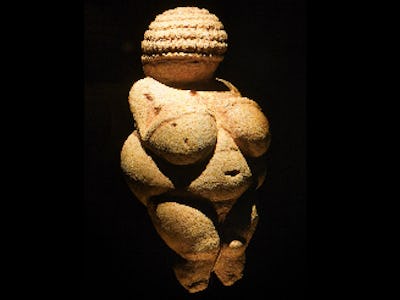 Georgi Nemtzov/Flickr
Facebook apologized on Thursday for mistakenly censoring an image of the prehistoric nude sculpture Venus of Willendorf.
The statuette, currently housed in the Natural History Museum of Vienna, is one of the first known depictions of the naked human form. It stands almost 4.5 inches tall, and archaeologists believe it was crafted sometime between 28,000 and 25,0000 B.C.E. The figurine, thought to be a symbol of fertility, was discovered in Willendorf, Austria in 1908.
The well-known artifact became the subject of a censorship debate late last year. A picture of the Venus of Willendorf was uploaded to Facebook in December 2017 by Italian activist Laura Ghianda; her post went viral, and Facebook later censored the image, reportedly labeling it as "dangerously pornographic," according to Ghianda's Facebook post.
A Facebook spokesperson told Inverse that the incident occurred because Ghianda tried to run an advertisement with the photo of Venus of Willendorf, and Facebook's advertising policies don't allow nudity.
Ghianda was incensed by the overzealous content moderation. "War on human culture and modern intellectualism will not be tolerated," Ghiana said, according to DW.
Christian Koberl, director of the Vienna museum, was similarly incredulous, pointing out that no museum visitor had never taken offense to Venus of Willendorf.
After months of silence, Facebook finally admitted that they shouldn't have censored the image. "We apologize for the mistake," a Facebook spokesperson told AFP. The picture of the figurine was accidentally flagged because of Facebook's mysterious anti-nudity policy. While the statuette is indeed nude, it turns out that Facebook actually has a statue exception.
This seems like such a benign and obviously inane instance of censorship that it hardly merits discussion. But it's not the first time Facebook has been criticized for censoring art and politically oriented posts. The company is currently facing a lawsuit in France for censoring a picture of Gustave Courbet's "L'Origine du Monde," and shutting down the account of the teacher, Frederic Durand, who uploaded the photo back in 2011. Durand is seeking monetary damages because of the alleged unfair censorship.
Facebook has also had issues when it comes to censoring speech. A ProPublica investigation from June 2017 demonstrated that Facebook's hate speech policies are generally biased against members of minority activist groups like Black Lives Matter. For example, U.S. congressman Clay Higgins was uncensored on a post calling for the slaughter of all radicalized Muslims, while activist Didi Delgado had her account suspended for a week for making inflammatory comments about white people.
Facebook's mea culpa comes in the wake of an active period of curated censorship on YouTube. According to The Outline, the video platform recently purged the videos and accounts of some high profile conspiracy theorists and white nationalists from its site.
As online discourse migrates to social media platforms like Facebook, YouTube, and Twitter, it's worth interrogating how these massive services decide what information can be disseminated on their platforms — even something as wacky as a tiny voluptuous statue.
Editor's note: As of 10:02 a.m. Eastern, 03/02/2012, this story has been updated to included comments from Facebook.