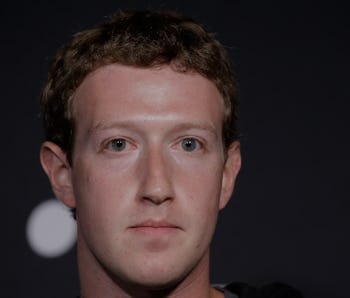 Innovation
This Famous Vietnam War Photo Was Removed by Facebook for Nudity
Here's how Facebook defended itself.
Getty Images / Win McNamee
Update: Facebook has reversed its decision to censor the photo.
"An image of a naked child would normally be presumed to violate our Community Standards, and in some countries might even qualify as child pornography," Facebook said in a statement. "In this case, we recognize the history and global importance of this image in documenting a particular moment in time."
Afternposten noted this on its Facebook page with an update that translates to "Facebook turns around."
The editor of Norway's largest newspaper is not happy. When Facebook removed Aftenposten's picture of the Vietnam War's most infamous image, titled "Terror of War" (or colloquially referred to as "napalm girl"), Espen Egil Hansen wrote an open letter to Mark Zuckerberg, blasting the site's censorship practices.
"I think you are abusing your power, and I find it hard to believe that you have thought it through thoroughly," Hansen writes in the letter published Thursday.
Norwegian author Tom Egeland posted seven photos on Aftenposten's Facebook page a few weeks ago, chronicling the changing face of warfare over the years. On Wednesday, Facebook sent the publication an email, politely requesting that they take down the photo, shot by Associated Press photographer Nick Ut in Long An, Vietnam. Ut won the 1973 Pulitzer Prize for Spot News Photography for the photo of then 9-year-old Kim Phuc. Then-president Richard Nixon, steeped in paranoia, thought it might have been "fixed" in some way. The photo changed attitudes about the war.
Less than a day later Facebook went ahead and removed the photo anyway. Egeland reacted, criticizing Facebook for its policies. In response, the site also excluded Egeland, blocking him from posting any more entries.
Why? A Facebook spokeswoman told The Guardian:
"While we recognize that this photo is iconic, it's difficult to create a distinction between allowing a photograph of a nude child in one instance and not others. We try to find the right balance between enabling people to express themselves while maintaining a safe and respectful experience for our global community. Our solutions won't always be perfect, but we will continue to try to improve our policies and the ways in which we apply them."
"I have written this letter to you because I am worried that the world's most important medium is limiting freedom instead of trying to extend it, and that this occasionally happens in an authoritarian way," said Hansen.
It's not the first time Facebook has come under fire for ham-fisted censorship. In May, it was reported that the site used a news feed algorithm to bury bad news about itself. It was also revealed that the trending news section was not run by an algorithm, instead editorialized by a team of writers.
Facebook's role as a journalistic medium has led to discussion over whether the site should be more upfront about its role as a media company, employing a public-facing editor. As a medium that presents itself as an unbiased social network, Facebook's attempts at censorship will come under intense scrutiny.
"To be honest, I have no illusions that you will read this letter," said Hansen. "The reason why I will still make this attempt, is that I am upset, disappointed well, in fact even afraid — of what you are about to do to a mainstay of our democratic society."