Spotify is Going Public, Here's What It Means
This isn't your average public offering.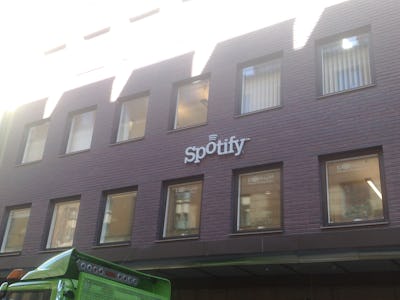 Flickr / Erik
On Wednesday, Spotify — the largest music-streaming service — filed to go public with the United States Securities and Exchange Commission. It will be listed under the ticker "SPOT" on the New York Stock Exchange. However, the Swedish company's public offering is going a little out of the ordinary.
Normally, when a private company goes public it would hire banks to assist it in finding buyers for its shares, a process known as an initial public offering (IPO). Spotify, on the other hand, will be undergoing a direct public offering (DPO). This bypasses the middleman, and offers its shares directly to investors, ensuring that it gets to market sooner than it would via an IPO.
This is, however, a bit of a riskier move. It has to trust that investors will buy shares in order to make their $1 billion target, a figure that could be revised as the DPO nears.
While the music-streaming service boasts 159 million monthly active users and 71 million premium subscribers across 61 countries, there still might be a few bumps in the road towards its lofty funding goal.
For starters, Spotify doesn't sell any sort of hardware that comes with the service already built in. Apple, for example, makes Apple Music the default music platform for all of its iPhones and HomePods. This pretty much guarantees a way for Apple Music to steadily grow; the more phones and speakers it sells, the more chances people will subscribe.
Spotify might also run into some issues with record labels and music rights owners. If the music streaming-service becomes more profitable than it is currently, music owners might want to charge higher fees for their songs. This would in turn force Spotify to charge more for its service or take a hit. It's also been hit with some expensive copyright lawsuits recently over the use of certain songs it offers.
This high-risk, high-reward decision might cement the company as a music-streaming monolith, or it might be the start of a rocky future.