Spotify Sued for 1.6 Billion Over Tom Petty, Neil Young and Weezer Songs
A publishing company is claiming copyright infringement.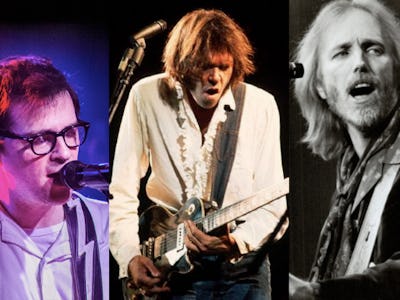 The copy-right infringement issues plaguing Spotify may have reached their apex in a new billion-dollar lawsuit.
Wixen Music Publishing, the publishing company responsible for the songs of Tom Petty, the Black Keys' Dan Auerbach, Weezer's Rivers Cuomo, Stevie Nicks and countless more notable musicians, is alleging that Spotify is using tens of thousands of songs without proper license or compensation.
In Wixen's lawsuit, provided here by The Hollywood Reporter's Eriq Gardner, they claim that compositions by their artists have been streamed or downloaded on Spotify billions of times. Considering that they own tracks like Tom Petty's "Free Fallin'" and The Doors' "Light My Fire," it's probably true.
The company claims to be the "exclusive licensee of the copyrights" pertaining to approximately 10,784 compositions currently on Spotify:
Wixen has the exclusive right to conduct all administration activities with respect to these musical compositions, including registering them with performing rights organizations, filing copyright applications with the United States Copyright Office, negotiating and issuing licenses (including mechanical license), collecting royalties, and filing lawsuits for copyright infringement.
Wixen says that although Spotify did obtain the rights for sound recordings via record labels to many of these songs, that's only half the battle. The company alleges that Spotify took a major shortcut by not obtaining the equivalent rights for the actual compositions. "As a result, Spotify has built a billion dollar business on the backs of songwriters and publishers whose music Spotify is using, in many cases without obtaining and paying for the necessary licenses," they claim.
The lawsuit goes on to say that it's typically labels that get revenue from a sound recording license, whereas songwriters and publishers get revenue from the license of a song's composition.
The lawsuit was filed on December 29 ahead of a copyright law amendment that applies to digital music providers.
This is definitely not the first time Spotify has been in hot water over copyright infringements. In May the company arranged a $43-million-dollar settlement over a class action lawsuit brought by a group of songwriters led by Melissa Ferrick and Cracker/Camper Van Beethoven's David Lowery. The plaintiffs had claimed that Spotify hadn't coughed up the adequate cash for licenses to their songs' compositions. A judge has yet to rule on the settlement.
In July, two more lawsuits hit Spotify, both aimed at the same issue of composition-related copyright infringement. One of the lawsuits, brought by Bluewater Music Services Corporation, called Spotify's settlement in May too little too late. "Such a settlement is essentially an empty gesture that encourages infringement and is entirely insufficient to remedy years of illegal activity," it said.