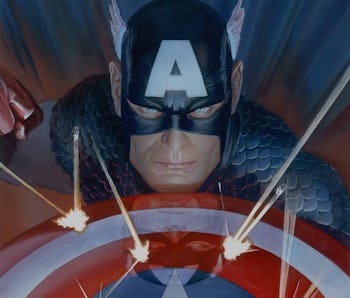 Entertainment
Marvel Is Doing Something Incredible With the New Captain America Series
Marvel Entertainment
Marvel is doing something truly exciting for its flagship Captain America comic books this year.
In July, Ta-Nehisi Coates, will take over for Mark Waid on Marvel's Captain America series, with a powerhouse art team of Lenil Yu (Wolverine) as series illustrator and Alex Ross on covers.
Though rumors of Coates — a correspondent for The Atlantic and the writer for the comic book Black Panther — writing Captain America have floated on the internet, he officially announced his new gig on Wednesday ini' a post on The Atlantic, simply titled "Why I'm Writing Captain America." Coates's first issue, Captain America #1, will be released on July 4.
Here's why Coates taking over Captain America is such a big deal:
In his post, Coates assures readers who may be curious why one of the most prominent voices of black America is writing a comic starring a superhero who literally wears the flag and an "A" on his forehead.
"Those of you who've never read a Captain America comic book or seen him in the Marvel movies, would be forgiven for thinking of Captain America as an unblinking mascot for American nationalism," writes Coates.
As a lifelong comic book fan, Coates argues that the best thing about Captain America "is the implicit irony." To Coates, Captain America — or, his real identity, Steve Rogers — is "the personification of his country's egalitarian ideals—an anatomical Horatio Alger who through sheer grit and the wonders of science rises to become a national hero."
He further argues that Captain America is never tied to America "as it is," but to America "of the imagined past." Though that idea could border on Trump-ish ideas — Coates famously criticized the current United States President in an October 2017 op-ed, "The First White President" — Coates says that is exactly why he's writing Captain America. "I confess to having a conflicted history with this kind of proclamation—which is precisely why I am so excited to take on Captain America. I have my share of strong opinions about the world."
He continues:
"But one reason why I chose the practice of opinion journalism—which is to say a mix of reporting and opinion—is because understanding how those opinions fit in with the perspectives of others has always been more interesting to me than repeatedly restating my own. Writing is about questions for me—not answers. And Captain America, the embodiment of a kind of Lincolnesque optimism, poses a direct question for me: why would anyone believe in The Dream? What is exciting here is not some didactic act of putting my words in Captain America's head, but attempting to put Captain America's words in my head. What is exciting is the possibility of exploration, of avoiding the repetition of a voice I've tired of."
As for his current Black Panther, Coates says he's going to "continue working in that world" while also "entering a new one—the world of Captain America."
Coates penning Captain America is a bold move by the mighty Marvel publisher, which has suffered a few hits as of late. While Marvel movies are bigger than ever, Marvel's comics have been engulfed in controversy, confusing publishing initiatives (another reboot is in store this year), as well as lagging sales compared to direct competitor, DC. Heck, Marvel fans were divided over last year's Secret Empire, in which Captain America revealed himself to be a double agent for the supernatural Nazi group, Hydra.
Enlisting a bold critic such as Coates on one of its flagship superheroes feels like a "go big or go home" move with the clear intent to shake up what these pop culture figures actually mean in a really crazy era of America.
Captain America #1 will hit comic shelves on July 4.