Controversies Engulf Marvel at New York Comic Con 
The biggest name in comics had a rough weekend.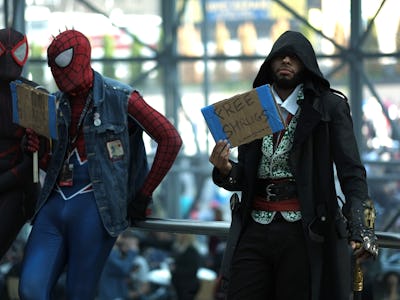 Getty Images / Neilson Barnard
Marvel should be enjoying a homecoming at New York Comic Con since the comic company was established in Manhattan back in 1938. But this year, the comic book publisher's image is in need of some serious damage control following a number of controversies that sprung up over the weekend.
While the vast majority of Marvel's panels and events scheduled for the convention have gone without a hitch, a few incidents have caused an uproar online and among fans inside the Javits Center. Here's a brief summary to catch True Believers, or anyone just curious on what the fuss is about.
Gender Slurs
The day before New York Comic Con even started, Diamond held its annual exclusive breakfast panel for comic book retailers. In attendance were Marvel writers including Charles Soule (Daredevil), Nick Lowe, Christina Hanigan, and Marvel editor Tom Brevoort. A report from Bleeding Cool recounts that the panel went smoothly — until it didn't. Frustrated by Marvel's increased presence of non-white, non-male characters headlining their own books, retailers angrily voiced their opinions against the publisher. The words "homo," "freaking females," and the word "black" were shouted in a seemingly negative tone, which ended the panel abruptly. Another report from Newsarama quoted a retailer, who voiced complaints of the now-queer Iceman "kissing other men" and Thor "becoming a woman."
When word got out of the panel, Marvel released on social media an impromptu video featuring Stan Lee talking up Marvel's principles for diversity and tolerance and the brand's intolerance for bigotry. Without knowledge of the panel, the video seems to come out of nowhere, but given the video's timing, it seems likely it was released to quell the situation.
The Punisher Pulls Out
Also on Wednesday, Marvel and Netflix released a joint statement announcing its cancellation of the Saturday panel dedicated to the upcoming live-action The Punisher series. Following the terrorist attack in Las Vegas, Marvel and Netflix jointly expressed concern that it wouldn't be "appropriate" to hold a panel for a character whose primary superpower is knowing how to fire and reload with deadly efficiency. In its place, Marvel is hosting an evening with Stan Lee, who retired from New York appearances last year.
Public opinion was sharply divided on Marvel and Netflix pulling out from Comic Con. Some praised the move, expressing that it was a good reading of the room temperature, while other fans blasted Marvel. Typical complaints included the words "pandering" and "SJWs," so, maybe this is one of the few good moves Marvel made.
Did Anyone See 'Iron Man'?
On the Friday of the convention, at 11 a.m., Marvel announced on Twitter a co-sponsorship with Northrop Grumman, the fifth largest U.S. military defense contractor with a reported revenue of $23.526 billion in 2015. A special event was to be held at NYCC on Saturday at 3 p.m. to announce the full scope of the partnership, which included a special, all-ages comic book crossover between the Avengers and Northrop Grumman's own mascots, Northrop Grumman Elite Nexus, or N.G.E.N.
Although Northrop Grumman doesn't manufacture guns, strictly speaking, the company does specialize in military aerospace and missile defense systems, which didn't sit well with a lot of True Believers who paid attention to Iron Man in 2008. (The entire Marvel movie universe began when billionaire war industrialist Tony Stark saw the horror of his weaponry up close.)
A Twitter search for "Marvel" and "war profiteering" brings up a number of tweets criticizing Marvel.
The online backlash prompted Marvel to not only cancel the event (in very casual fashion; it was announced in a simple tweet posted at 12:34 a.m.) but also the full partnership. Marvel gave a statement about the cancellation to Polygon:
The activation with Northrop Grumman at New York Comic Con was meant to focus on aerospace technology and exploration in a positive way. However, as the spirit of that intent has not come across, we will not be proceeding with this partnership including this weekend's event programming. Marvel and Northrop Grumman continue to be committed to elevating, and introducing, STEM to a broad audience.
Marvel is still a big force at New York Comic Con. Avengers cosplay is everywhere, and fans are still populating the line at the official Marvel booth. However, there are undoubtedly sour feelings and an intangible tension among the crowd, who continue to pursue fantasy in order to escape realism, even though the real world is just outside.
The Revolution will not be televised. It'll be sent to your inbox by us. Get emails from Inverse.