Ring Was Just Acquired by Amazon. Here's Its Rejected 2013 Shark Tank Pitch
You probably would've passed on "Doorbot," too.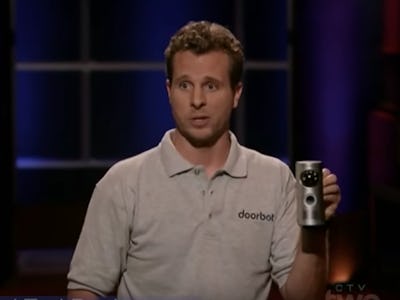 Every Shark Tank Product/YouTube
On Tuesday, Amazon announced that it was buying Shark Tank reject and video doorbell business Ring.
Amazon's most recent acquisition, reportedly valued at over 1 billion dollars, portends an increase in the company's efforts to create a seamless delivery experience. Ring, formerly named Doorbot, is a camera-equipped doorbell that syncs with smartphones so homeowners can see and communicate with people who ring their doorbell from any location. The technology will be particularly useful for Amazon, as customers who adopt Ring could use the device to let delivery people into their homes and ensure that packages aren't stolen.
For Amazon, the deal isn't particularly surprising. For Ring CEO Jamie Siminoff, this is the apex of an entrepreneur's ultimate comeback story. During the early days of his company, Siminoff appeared on Season 5 of the business investment show Shark Tank in 2013. The inventor presented Doorbot as the doorbell of the future, an innovation that would both provide security and the ability to never unwittingly answer the door for an unwanted guest again. "It's like Caller ID for your doorbell," Siminoff said.
Despite Siminoff's earnest demonstration, the sharks didn't bite. But the doorbell man was not deterred. Over the past four years since the business fish (that's right, sharks are fish) rejected Siminoff's idea, Ring has become the most valuable company ever to appear on Shark Tank, according to an ABC News report from February 2017. And that was before the Amazon purchase.
Siminoff's company was able to survive the Shark Tank rejection because his pitch on the show gave the business widespread publicity, boosting Doorbot sales to $3 million within the year following the episode. Siminoff capitalized on the cash infusion by rebranding and creating an entire line of home-security devices, eventually leading to a $1 billion valuation in November 2017.
Tuesday's deal is but another example of the Bezos touch: even doorbells turn can into Amazon property.