High-Tech Backpacks Highly Rejected on 'Shark Tank'
The sharks were very unimpressed by a backpack that can store all of your data and charge your cell too.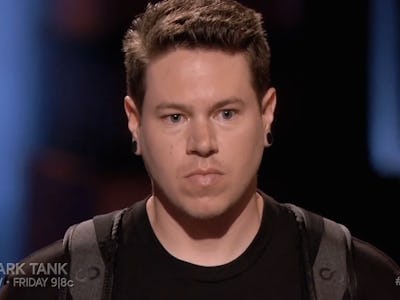 ABC/Shark Tank
If you take a lil' dip in the Shark Tank, chances are, things will get bloody. And the cash-hungry, sharp-toothed fishes on the ABC show either swallow budding entrepreneurs whole or let them cling to their backs, like flat-headed remoras. Tonight's show demonstrated the sharks' huge disdain for the most technologically advanced of the bunch and their deep desire to discuss brassieres.
Denver dudes Jeff Popp and Casey Lorenzen currently have a regular old backpack company called MHM. The two have recently created a whole new brand of "smartpack" that they're calling Co.alition, the ultimate techie accoutrement. You can plug it into the wall to give it some juice and then charge everything with it — from your iPad to your vibrator.
"When your phone dies, it's like the worst thing in the world," Popp, the blond, tall one made sure to point out. And the backpack also apparently keeps you from "looking like a dork." I guess because only dorks need to plug in their dead phones in public.
"But just keep your pants on, 'cause this party is just getting started," Popp said. The backpack has an "integrated wireless hard drive" so you can store all your digital files, keeping large files off devices but always wirelessly accessible.
They wanted $200,000 for 20 percent equity in the company, but the sharks were all like, hell no, anyone can make this thing. They kept saying over and over that they were completely convinced that literally anyone can make one of these. So, please do. "Wearable technology is exploding," said Lorenzen, the guy with two plugs in his ears.
Also rejected was the $349 portable cooler-a/c called IcyBreeze. Plop in a big block of ice and a fan and very expensive rechargeable battery will pump cool air out of the "flexihose" and onto your sweaty face. None of the sharks actually gave a crap about getting cool on a hot day outside. Kevin O'Leary literally commented on his desire to have a mint on his pillow each night.
The crazy part about this machine — not that the air pumped out might smell like old sandwiches and beer — but that the guy who invented it, Andrew Jenkins, sunk $5.5 million into the company. The reason he was able to do that is because he and his brother created a management software company for IT professionals, SolarWinds. Needless to say, they went home with the same millions with which they came in.
It was a big night for Mark Cuban and Daymond John who threw down some big bucks. Shefit— the "ultimate sports bra" — got some necessary support. Creator Sara Moyan is like the Joy of Shark Tank — a supermom with a big rack who had a real need and thought up a solution to her "large" problem. The sharks spent like two minutes obsessing over how thick the material is, even though Moyan and her semi-silent and equally buff salesman hubby actually have a pretty creative product that really benefits boobs. FUBU's Daymond John took the bait at $250,000 for 33.3 percent of the company.
Brainiac Shaan Patel from Las Vegas made his own program to raise SAT scores, 2400Expert. His goal is to take his product to a national level to satisfy the American Dreams of his immigrant parents. Homeboy got a perfect SAT score, but only after he studied really hard. Like harder than you did. And Cuban even jumped in on the deal, sealing the distribution of his product in new markets, including New York and D.C. and online, with an investment of $250,000 for 20 percent. He's betting on his brains. Thank you, Mark, for supporting smart folks.
Also worth nothing was a short update on the cricket energy bar Chapul that Cuban once invested in. It's actually doing pretty well "feeding the revolution." And the revolution will not only be televised, but fed bugs.