Mark Cuban Says Legalized Sports Betting Is 'Inevitable'
'It will take some time for the courts to overcome the grandstanding by a few district attorneys.'
by Sam Blum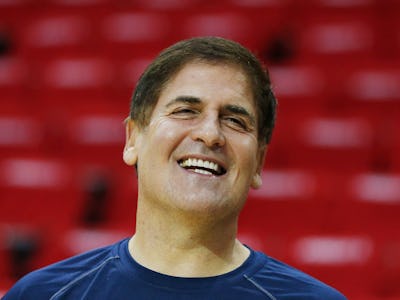 Getty
Mark Cuban, the verbose and insanely rich business personality who you've seen on Shark Tank or on the sidelines of Dallas Mavericks games as the team's outspoken owner, thinks United States sports betting laws are rotting in the dark ages.
He's been a frequent critic of public officials who've sought to curtail the operations of fantasy sports giants Draft Kings and Fan Duel, and has since wagered millions on sports data firm Sportradar AG and the betting service Unikrn, in an attempt to gain a commercial foothold on the bourgeoning, but still mostly illegal industry.
To Cuban, an overhaul of laws that have made sports betting illegal in 46 states is "inevitable," especially as legions of fantasy sports fanatics continue to balloon across the country.
In an interview with Fortune, Cuban said of the legalization of professional sports betting:
"It's inevitable. It will take some time for the courts to overcome the grandstanding by a few district attorneys, but once that happens I think we will see a slow but sure availability of gambling across the country. The bottom line is that it will create needed tax revenue that states will want."
Cuban would also like to see new partnerships formed between professional sports leagues and bookmakers — a kind of corporate symbiosis for which NBA commissioner Adam Silver has even advocated — and for the process to be regulated.
Cuban also thinks the rising popularity of eSports — Call of Duty, League of Legends, etc. — will expand into traditional sports. Think VR basketball games on which viewers can bet: "I think the NBA will work with our partners to extend our games into the eSports world. There is a lot of room for us to grow there."
All of this would allow sports betting in the United States to mirror its trajectory in Europe, where the public bets on sports, notably on professional soccer matches, via brick-and-mortar shops like Ladbrokes, or directly from their smartphones via betting apps like William Hill.
Cuban has said the fact that sports betting in the United States is illegal is downright "un-American." He told ESPN in 2014:
"It's crazy that we allow it in the rest of the world but it's really upsetting that sports leagues don't think Americans are good enough to gamble on our sports, but the rest of the world is. That's un-American."
In the same ESPN interview, Cuban predicted that sports betting in the United States would become legal within the next three to five years.