Amazon Key is the Big Push to End the Scourge of Stolen Packages
No more tracking down your Prime package.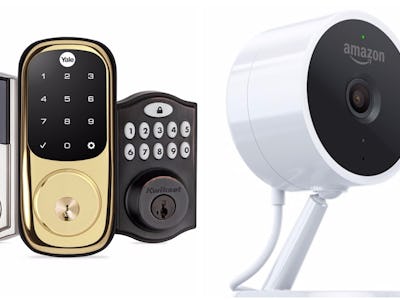 Amazon
Amazon wants to gain entry to your home — quite literally.
The tech giant announced Wednesday the launch of Amazon Key, a new service exclusively for Prime members that "radically improves the convenience of receiving deliveries and granting secure home access for guests." In other words, you'll get your Prime goods delivered inside your home as opposed to to your doorstep.
"Amazon Key doesn't simply replace a key with a digital passcode," the company told Inverse in an email. "Amazon built this state-of-the-art technology to make enabling access easier and safer than ever before."
Basically, Amazon wants you to stop picking going to physical stores and shop on your way home, and slowly but surely shift everything toward home delivery.
However, Amazon Key has already received a wave of online backlash over the potential safety concerns that come with giving delivery people access to homes, but the company assures customers that they have nothing to worry about.
"Safety and security assurances are built into every aspect of the service," Amazon told Inverse. By using the Amazon Key app, customers can track their in-home delivery with real-time notifications, watch the delivery live via the Cloud Cam or review a video of it later.
"Amazon is operating under a premise of package theft problem," Brian Roemmele, a tech researcher and analyst at the trade publication Multiplex, told Inverse.
He said the stats show that the successful delivery of Amazon packages has become a big problem in many cities, with many never making it to the person who ordered it. "Packages are often being stolen based on the box's logo, which Amazon is known for."
The launch of Amazon Fresh and Pantry exacerbates the problem, as food is the perfect impulse steal item.
"With perishables becoming more prominent, the piles of boxes in a lobby is going to look different as time goes on," Roemmele said.
This causes a logistics challenge for Amazon, as the only way to truly solve it is with post-work hour deliveries, when most people are home to receive packages. Even the launch of Amazon Lockers — which was meant as a security solution — didn't quite take off, Roemmele pointed out. Turns out, people feel that stopping at a pseudo-post office to pick up deliveries defeats the purpose of online shopping.
The company is betting that Amazon Key will prove a more natural fit for its Prime power users.
"Letting a stranger in your home is not a new concept," Roemmele pointed out. "People invite cleaners and dog walkers into their house by leaving a key under the mat."
If anything, he argued, the Amazon Key digital key and camera system provide alerts that protect your belongings and pets. Amazon's highly-rated theft protection policy gives it credibility when it promises to protect customers' packages.
But it's the idea of putting a live camera in your home that most people understandably have a problem with. As with most tech products, Roemmele predicts the backlash will subside and Amazon customers will test out and come to love Amazon Key.
As Roemmele put it: "Airbnb and Uber also sounded creepy to people when they launched." Now millions of users couldn't imagine being without them.