Amazon Offers Whole Foods Delivery: What to Know About the New Service
Order kale through Prime Now.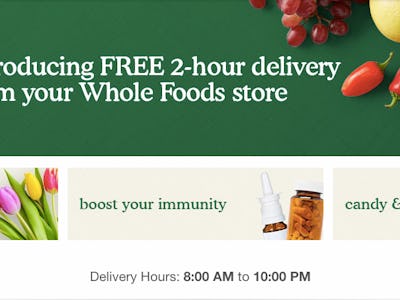 Amazon
Amazon's food delivery expansion continues.
The company and its subsidiary Whole Foods announced a delivery partnership Thursday, allowing customers to use Prime Now to order groceries from the health foods market.
Amazon had already been offering certain non-perishable Whole Foods items through Prime Now, its 2-hour delivery service, since the acquisition of the supermarket chain last year. However, the new service will include everything from meat, produce, seafood, to even frozen items. Some alcohol items will also available for delivery.
For now, the Prime Now launch is only available in select cities: Austin, Cincinnati, Dallas, and Virginia Beach. Amazon has plans to expand it to the rest of the U.S. throughout 2018.
"We're happy to bring our customers the convenience of free two-hour delivery through Prime Now and access to thousands of natural and organic groceries and locally sourced favorites," said John Mackey, Whole Foods Market co-founder and CEO, in a statement.
"Together, we have already lowered prices on many items, and this offering makes Prime customers' lives even easier."
Whole Foods Market's orders through Prime Now will be available for free two-hour delivery for Prime members. For even quicker delivery, members can select a one-hour for $7.99 on orders of $35 or more, Amazon says.
Eligible Whole Foods Market delivery through Prime Now is available daily from 8 a.m. to 10 p.m. through www.primenow.com or the Prime Now app on Android and iOS devices.
There is no word yet on how Amazon will address Whole Foods' fulfillment partnership with the grocery delivery service Instacart. The high-end food market has been delivering customers items through Instacart memberships for years.
If Amazon's track record is any indication, the company will continue to integrate Whole Foods' branding and services into its own.
Within days of its $14 billion buyout last year, Amazon already began placing displays of its popular Echo devices for sale throughout Whole Foods stores. With the Amazon logo featuring so prominently throughout the supermarket's locations — promising lower prices on items — it was only a matter of time before Amazon offered full on Whole Foods grocery deliveries.