There's a Reason Why Kickstarter Went Crazy For a Batman Board Game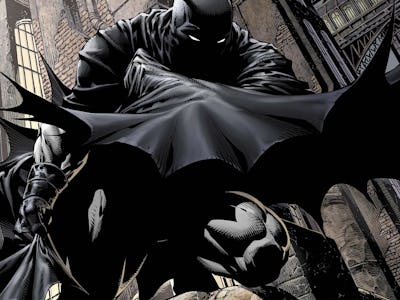 DC Comics
A Batman board game brought in Bruce Wayne-like amounts of money in no time flat on Kickstarter, and looking at Batman: Gotham City Chronicles, it's easy to see why. The game is an in-depth love letter to the Dark Knight, packed with plenty of the Caped Crusader's history and lore, and a style that brings the popular Arkham video games to mind.
On Tuesday, French board game developer Monolith began its crowdfunding efforts for Batman: Gotham City Chronicles, an asymmetrical tabletop game utilizing a mix of cards and figurines for two-to-four players. In less than 12 hours, Monolith reached its goal of $500,000, and as of this writing Wednesday morning, Monolith's total funds are nearly four times that, with over $1,900,000 and counting. There are still 31 days left until funding ends on March 31. The officially licensed game is set for an April 2019 release.
In Gotham City Chronicles, players can become heroes like Batman (duh), Catwoman, and Nightwing, or villains like Joker, Bane, and Poison Ivy for control of Gotham City. Also, every announced stretch goal was hit, meaning even more characters like Penguin, Robin (Damian Wayne), Red Hood, Man-Bat, Orphan, and Deathstroke will be part of the game.
An amalgamation of all things Batman (minus the classic '66 Adam West series), Gotham City Chronicles bears a strong stylistic resemblance to the acclaimed Batman: Arkham video games. And like those games, which are aimed at an older audience, Monolith's take on Batman may be a bit too complicated for the young ones. Given it's made by Monolith, this is an artisanal board game for die-hard enthusiasts than casual players who would maybe have an easier time with Monopoly.
Monolith's inclusion of Deathstroke, a popular anti-hero introduced in Teen Titans, also shows how deep the company is willing to dig to make Batman's world really comprehensive. Like, it's one thing to have Batgirl, but Orphan? About the only character missing at this point is Superman.
The game is using an official license from DC Comics, so fans can be assured this is the real deal. In fact, Monolith explained that a Kickstarter effort, and not a traditional retail release, was necessary because "the game contains a lot of work and high-quality components on top of the cost of the Batman license."
"To be able to offer you this game at a reasonable price, we had to cut our margins as low as possible," Monolith wrote on its Kickstarter page. "[I]f we were to sell this game to a distributor, who then would sell it to retailers, the final price of the base game for you gamers would be multiplied by 2.5. That would be more than $350 for the base game only!"
In addition to the core game, Monolith has four expansions, between $15 to $55, that are "optional buys." Predictably, these expansions are themed after major areas in Batman's mythology: Wayne Manor ($55), Arkham Asylum ($55), and The Batmobile ($35). There is also a dice pack for $15, and a "Versus" expansion, for $35, that allows two players to square off head-to-head.
Exciting as Gotham City Chronicles looks, it'll be awhile before anyone can get their hands on it. (Although Monolith did send some board game reviewers on YouTube a prototype version that will not reflect the final product.) The game isn't expected to ship until April 2019. The game will only be available to those who purchase the game via Kickstarter, at either a "Base" cost of $140 or an "All-In" purchase that includes expansions of $320.