'Thor Ragnarok' Blu-ray Extra Could Give Thanos Competition
Will the Grandmaster clash with the Mad Titan Thanos?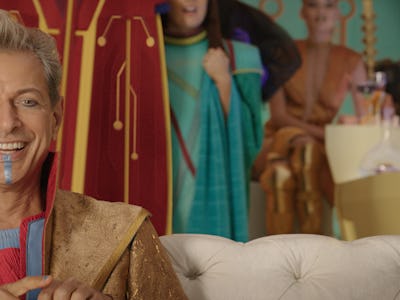 Marvel Entertainment
Thor made his return to the the Marvel Cinematic Universe in Thor: Ragnarok, but that only meant Darryl, Thor's roommate in Australia, needed someone new to help pay rent. Unfortunately, the Grandmaster answered.
In the newest episode of Team Darryl, a bonus feature on the Blu-ray of Thor: Ragnarok now available, the Grandmaster (Jeff Goldblum) begins his plan to take over Earth with the help of Darryl (Daley Pearson). But could this could be a problem for Thanos in Avengers: Infinity War? Unlikely, but, it's not for lack of trying on the part of the Grandmaster.
In Team Darryl, Thor is up in space escorting Asgard across space while Darryl moves to Los Angeles. In his search for a new housemate, Darryl gets more than he bargained for when the Grandmaster (Jeff Goldblum), who has somehow arrived to Earth from Sakaar, comes knocking. Not only is the Grandmaster a total drag to live with, the Grandmaster also forces Darryl to help set his plan to take over Earth in motion.
Step one, Darryl replaces Topaz as his new right-hand man. Step two, the Grandmaster has Darryl make a YouTube video announcing his intentions to take over Earth (which no one watches, except for the Grandmaster himself refreshing on Darryl's laptop).
Finally, step three, the Grandmaster tries to make a song to promote said video, only to end with one of Darryl's friends getting vaporized. It's a pretty terrible living situation, yeah. But can the Grandmaster take over Earth in time before Thanos can get his chance?
Based on the trailer for Avengers: Infinity War, it's unlikely anyone on Earth even knows the Grandmaster lives among them. In fact, it's unclear whether or not Team Darryl is actually in canon to the MCU. But that's fine. Despite being a Celestial (though he's actually one of the Elders of the Universe in the comics), it seems there's no stopping Thanos when he wields all those Infinity Stones. But so long as Darryl has the (terrifying) power of the Grandmaster's friendship, things might work out A-OK for them.
Thor: Ragnarok is available now on Digital HD. It's available on Blu-ray March 6.