Bitcoin Is Dropping, and Experts Can't Agree Why
The cryptocurrency is struggling to move past $10,000.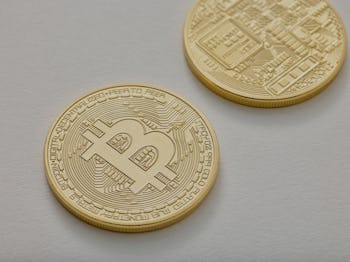 Flickr / lookcatalog
Bitcoin has had a tough day. The world's largest cryptocurrency shed 7.4 percent of its value over the space of 24 hours on Thursday, continuing a multi-day drop in price to reach $9,939. Experts can't agree whether Bitcoin has reached a natural plateau of $10,000, or if it will continue to rise past its all-time high of nearly $20,000.
"$10,000 is a plateau for Bitcoin only as long as profit-taking continues," Trevor Gerszt, CEO of crypto investment service CoinIRA, tells Inverse. "Investors who bought the dip nearly doubled their money when Bitcoin got close to $12,000, so a little bit of retrenchment was not unexpected. Once that's over, we expect Bitcoin to continue its long-term price appreciation."
Not everyone agrees. An analysis last week from Bespoke Investment Group claimed during its rise that the price would find resistance at the $11,000 mark. If it stays around that level, it could signal a stabilization for weeks, but a drop could signal a plunge to even $6,000.
However, others agree with Gerstz's sentiment that a stabilization around the $10,000 could signal a further jump later down the line.
You Might Also Like: Litecoin Cash is Surging, but It May Not Last Long
"When it originally hit $10,000 in November, it created a new dialogue about bitcoin and cryptocurrencies — almost what it was like 25 years ago about having an email address — that has translated into new entrants pouring into the space to participate in this new frontier at the intersection of technology and finance," Matt Roszak, co-founder of enterprise blockchain development company Bloq, told CNBC last week. "Each time these milestones have been hit, it introduced a new audience of participants and developers."
It's been a busy few weeks for Bitcoin. Major exchange Coinbase has revealed plans to support the SegWit technology to boost transaction speeds, while Microsoft has signalled support for Bitcoin's approach to speeding up transactions through the "Lightning Network," which could support up to billions of exchanges per second. Whether this boost in fortune is enough to sustain Bitcoin's momentum past the $10,000 is key.