How a 22-Year-Old Won $50,000 on a Live Quiz App
She plans to use her winnings to go to medical school.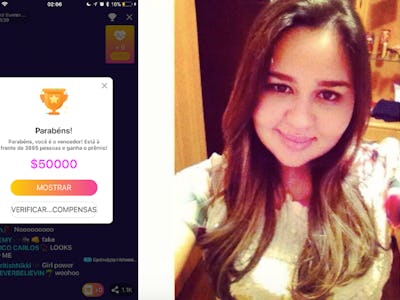 QuizBiz
Amid coverage of countless tragedies and political unrest, sometimes the internet proves it isn't all that bad, and just maybe, live trivia games can give us modern-day Cinderella stories.
Thalita — a 22-year-old Brazilian who didn't want to use her last name — won $50,000 this month by playing QuizBiz, a live trivia game from Live.me.
Thalita logged into QuizBiz, a game similar in vein [to HQ Trivia])https://www.inverse.com/article/40910-hq-super-bowl-halftime-show-game), on Super Bowl Sunday, and her life changed forever, she tells Inverse.
"I can't explain the feeling," she says. "The second I won I dropped my phone and went to hug my mom."
It helps that Thalita has been a lover of trivia games from an early age, and in recent months has been playing both HQ Trivia and QuizBiz after a friend introduced her to them. Her dedication eventually paid off, as she's won both quiz shows since starting in January. So far she's won $16 playing HQ and several rounds of QuizBiz, one of them being the $50,000 prize.
QuizBiz launched in December 2017 amid the trivia app craze. It can be played through Live.me, which boasts 40 million users, and Cheez, a Vine-esque video app. QuizBiz games are broadcast at 3:30 p.m., 8 p.m. and 10 p.m. Eastern daily. All players who answer all 12 questions correctly split the cash prize, a spokesperson for QuizBiz tells Inverse.
The company also notes that the trivia game show recently upped the ante to a $1 million prize pool, with new minimum giveaways per game set at $10,000 and up to $100,000 on special occasions.
"There was a lot of luck involved," Thalita says of the "survivor mode" game that earned her the $50,000. "I had a lot of people in the house who happened to know a lot about football, including my Patriots fan dad and brother." The NFL trivia was in reference to the Super Bowl-themed trivia questions QuizBiz presented on Feb. 4.
"The game Thalita won was a Super Bowl-themed survivor game, where the questions keep coming until one player is left standing," the QuizBiz spokesperson says.
"I made it all the way to round 35 with the help of three extra lives," Thalita says, before being named the winner.
The 22-year-old is planning to use all the prize money for college tuition, which she couldn't pay for last year. She begins classes next month, where she'll be studying to be a pediatrician.
As a successful trivia game app player, Thalita credits QuizBiz for being slightly easier to win than HQ Trivia.
"To me, QuizBiz feels easier than HQ because the questions are not as specific," she says, noting that QuizBiz questions involve lots of common knowledge.
Since winning the big prize, Thalita has kept up with the daily games and won an additional $500. "It's part of my routine and daily schedule now," she says.
If you're looking to replicate Thalita's success, she's got a trivia tip for you: "I say keep playing, because not only is it a fun game, but if you keep playing you'll eventually win something."