How to Stream Super Bowl LI Tonight
Here's our complete guide for cable subscribers and cord-cutters alike.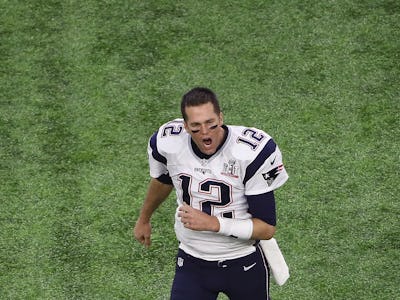 Getty Images / Ezra Shaw
Sports fans and commercial fans alike are gathering to watch the New England Patriots and Atlanta Falcons face off in Super Bowl 51 today at 6:30 p.m. Eastern. Hopefully, you've already covered all your bases in terms of soda, beer, wings, guacamole, fried mozzarella sticks, mac and cheese casserole, chili dogs, bacon-wrapped dates, and whatever other provisions you need for the game. But if you're anything like me, amid all the planning, cooking, and getting a final headcount for the party, you may have forgotten the crucial element: Where can I watch the game? Never fear. Inverse has got you covered with your complete guide on how to stream the Super Bowl.
Whether you have prop bets riding on the game or you're just watching for the commercials, whether you're a cable subscriber or a cord-cutter, you can find what you need in the following guide.
Watch it on Cable
This how a lot of people will do it, and it's not that hard, so we won't spend too long explaing. The game will be broadcast on Fox, so check your local listings to find out which channel that is. Boom. It's that easy.
Stream It
If you have a smart TV or just want to watch on your computer, you can go to FoxSportsGo.com to stream the game for free. Fortunately you won't have to sign in with a cable subscription. There's also a free Fox Sports Go App available for tablets and internet-connected TV devices like Chromecast, Roku, and AppleTV. Unfortunately, the app is not available for mobile phones.
But if you're a Verizon customer, you can get the free NFL App for your mobile phone, and best of all, Verizon will let you stream the game data-free.
Most streaming TV services will carry the game, too. You can sign up for a free seven-day trial of Sling if you don't already subscribe to the service. Check here to find out whether your device is supported.
Watch With an HD Antenna
If you don't subscribe to cable and you don't have a connected TV device to stream the game, you're not out of luck. You can run out to most electronics stores and pick up an HD antenna without shelling out too much cash. That way you can catch the game in crystal-clear high-definition over the airwaves without worrying about whether your internet connection is fast enough.
Optimize Your Internet Connection
Streaming sports in high-definition while all your neighbors are doing it too is a perfect recipe for lagginess. There are a few things you can do to ensure that the game will come through as clearly as possible.
Kick Your Guests off the Wifi
This may sound cruel, but if your friends are using your wifi to scroll through Instagram or post Snapchat stories, they're eating up valuable bandwidth. Change your password or ask them nicely to turn off wifi on their phones. It will be to everyone's benefit.
Connect Your Device Directly to the Internet
If you can use a direct connection, do it. Wifi is great, but streaming sports requires the fastest possible connection, and wifi simply can't compare to an ethernet cord.
Improve Your Wifi Signal
If you insist on remaining wireless, or your connected device can't be plugged in, use this handy Comcast guide on ways to optimize your wifi signal. Keep your router elevated about head level, not on the floor. Put the router in the center of the house. Keep the router away from windows. These are just a few tips you may not have considered before. But if you want to stream the game, it might be worth trying them out.