Sling's Subscription Is Up, but Still Has a Ways to Go
The number reaches a new high, but still falls way behind Big Cable.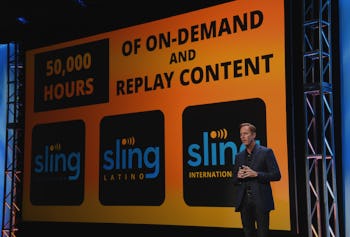 Getty Images
Sling TV, Dish's internet TV service, has been steadily increasing its number of subscribers since it launched a little over a year ago. According to numbers published by The Wall Street Journal, the $20-per-month service now has more than 600,000 monthly subscribers — 129,000 of which were added in 2016 alone. 600,000 seems like a huge number of people, but compared to other cable services, Sling still has a long way to go.
According to a table put together by the Leichtman Research Group, Comcast has the most subscribers of any cable service — totaled at nearly 23 million — while Time Warner Cable clocked in with the second highest at about 13 million. Now 600,000 doesn't seem like such a big deal, does it? It may be relatively much smaller, but Sling TV's steadily increasing growth — up from the reported 169,000 subscribers in March 2015 — is a promising sign.
Even though Sling's subscription is much lower than more successful competing brands, there are some important advantages of it that should be duly noted. First of all, and perhaps most importantly, Sling's $20-a-month subscription fee is much lower than those of competing brands, making it a popular option for millennials who have avoided subscribing to more luxurious cable providers. Sling TV is also touted for its access to ESPN, which ESPN President John Skipper says has "brought in new people to the pay television universe." The service has added more available channels this year like HBO and Cinemax, and plans to release an updated, more user-friendly interface at some point this year. To all you Slingers out there: keep Slingin'. And tell your friends: There's a lot of catching up to do.