Airbnb Launches "Experiences" Feature in Philadelphia Following Super Bowl Win
Travelers are flocking to Philly.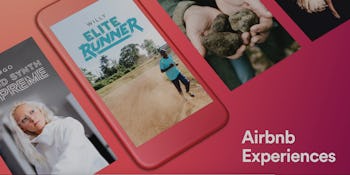 Airbnb
Just in time for a post Super Bowl victory lap, Airbnb has launched its growing "Experiences" feature in Philadelphia.
According to the company, Airbnb saw a major growth in bookings by folks heading to the city following the Philadelphia Eagles' win on February 4.
Of course, the majority of arrivals in the city occurred in time for the winning team's parade, where Airbnb saw an impressive 80 percent increase in guest arrivals for the nights of February 7 and 8, in comparison to the previous week.
Perhaps the most interesting part about this spike is that of all these bookings, 60 percent were booked after the Super Bowl actually took place. Now, Airbnb has chosen to capitalize on the tourism boom by launching its "Experiences" feature, in which Airbnb users can book locally-hosted activities, unique to each city. By offering Airbnb Experiences, Philly joins the ranks of world class cities like New York, Los Angeles, London, Paris, and Tokyo.
There are now 40 "local-led unique experiences" being offered in Philadelphia, according to Airbnb. Of course, it wouldn't be a complete Philly tourism program without some mainstays. These include: a running tour of Philadelphia up the Rocky Steps made famous in the eponymous film, and a tour of locally favored Philly cheesesteak spots, like the famous Frank's. Others include cooking Italian dinner with the city's top pasta-making chefs and going on a walking tour of Philly's music scene.
While experiences didn't launch in Philly as a direct response to the increase in travelers due to the Super Bowl, the timing makes sense considering the rise in housing bookings on the site.
"In November 2016, Airbnb had just 500 Experiences in 12 cities," an Airbnb spokesperson tells Inverse. "With the Philadelphia launch, there are now more than 4,500 experiences in over 55 markets. We're up 2000 percent in terms of weekly guest bookings from January last year."
While it's too soon to tell whether Philly's tourism boom will outlast the Super Bowl afterglow, it's clear platforms like Airbnb are here to cater to those indulging in it.