Wikipedia Ends Program That Offered Data-Free Access to the Developing World
Wikipedia Zero provided free access to over 800 million people.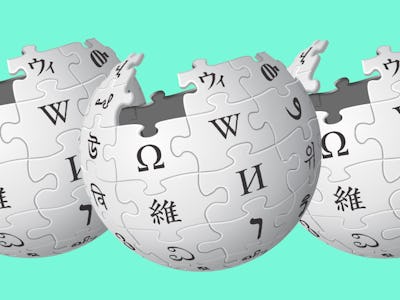 Wikimedia
The Wikimedia Foundation announced the impending shutdown of the Wikipedia Zero program in a statement posted on Friday. Wikipedia Zero is a humanitarian initiative started in 2012 that allows people to access Wikipedia pages without incurring mobile data costs.
The free access was made possible by partnerships between the Wikimedia Foundation and mobile service providers who agreed to waive data charges for people accessing Wikipedia domain pages. The program spans five continents, focusing on regions where people rely mostly on mobile devices to browse the internet.
Over Wikipedia Zero's six-year lifespan, a total of 97 businesses provided free access to more than 800 million people in 72 countries, from Morocco to Myanmar.
In some places, zero-data Wikipedia and Facebook Basics are the only accessible websites. This information vacuum has led to creative (aka borderline illegal) uses of Wikipedia's platform. In Angola, for example, internet pirates used free Wikipedia access to share copyrighted materials. When Wikipedia is almost the entire internet for some people, the Wikimedia Foundation also has an inordinate amount of power, pertaining to access to information, leading some to argue that Wikipedia Zero is actually a bad policy.
That predicament won't exist for too much longer. The Foundation has decided to forgo creating new partnerships in 2018, and the ones currently in effect will expire by the end of the year. The decision was made because Wikipedia Zero participation has dwindled over the past couple of years. "Since 2016, we have seen a significant drop off in adoption and interest in the program," the statement said.
Wikimedia posits that changes in the mobile industry and data pricing have played a big role in decreasing engagement, along with a lower awareness of Wikipedia in continents other than Europe and North America. Despite the wide reach of Wikipedia Zero, many people in countries like Nigeria, India, and Mexico don't know that Wikipedia exists.
That means that data affordability isn't the only thing preventing internet users from visiting Wikipedia; people need to know about Wikipedia before they can use it. To that end, the Wikimedia Foundation seems to be operating under a new prime directive: the first rule of Wikipedia is that you must talk about Wikipedia.
The Foundation noted that early efforts to boost awareness in certain regions have been successful. "In Nigeria, we partnered with Nigerian community members and Nollywood stars to introduce more than 15 million people to Wikipedia and how it works," the statement said. Wikimedia plans to build on these campaigns and focus on cultivating interest in the platform. Ultimately, the Wikimedia Foundation hopes to achieve its goal of facilitating a truly global exchange of information.
"To create the world's knowledge, we need participation from the world," the statement said.