Track Elon Musk's Tesla Roadster on Its Space Odyssey with This Website
Where in the solar system is Starman?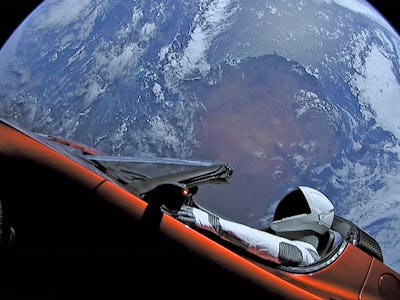 Flickr / sjrankin
In the past week, SpaceX has cemented itself in aerospace history by launching Falcon Heavy — the world's most powerful rocket — for the first time.
Beyond demonstrating the rocket could actually blast off, SpaceX had some fun by putting Elon Musk's Tesla Roadster into an orbit around the sun where it would fly by Mars and Earth over and over again.
Join our private Dope Space Pics group on Facebook for more strange wonder.
A few hours after the monumental launch, Musk tweeted that his electric sports car and the crash test dummy he put inside it — named "Starman" — had slightly overshot. The SpaceX CEO said that its path "exceeded Mars orbit and kept going to the Asteroid Belt."
Musk hasn't provided a lot more details regarding Starman's trajectory, but thanks to self-described "space nerd" Ben Pearson, we no longer have to wait for sporadic twitter updates. Using the Whereisroadster website Pearson developed, SpaceX enthusiasts have access to extremely accurate data showing where Starman currently is and where he will be in the future.
Pearson used data from the Jet Propulsion Laboratory's HORIZONS system, which tracks planets, comets, and other objects traveling through the solar system. Pearson's site takes the speed of Musk's Roadster and compares it to how fast Earth and Mars are moving. This results in some pretty entertaining and educational, interactive graphics.
The site even provides a list of some of the milestones the Roadster will accomplish during its orbit within the next two years.
On February 22, 2019, the car will be roughly 227 million miles away from the Earth, the farthest away from our planet it has ever been. And on October 7, 2020, it will come pretty close to Mars, roughly 4.6 million miles away from the red planet.
Pearson goes on to say on the site's "About" page that the data being used will eventually expire after a few years, making this chart inaccurate. So it's not possible to project Starman's journey for the next several eons — at least not yet.
But until that time, you can use it to visualize where Starman is in his long, interplanetary journey.