World's Tallest Hotel Opens in Dubai — And It's Affordable
The City of Gold is now home to seven of the world's 10 highest hotels.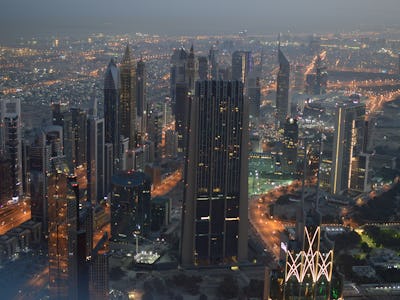 Flickr / --Sam--
Standing at 1,170 feet tall, Gevora Hotel in downtown Dubai has officially opened as the world's tallest hotel, knocking its neighbor the JW Marriott Marquis off the podium by one meter.
The Gevora has 528 rooms spread over its 75 floors, including 232 deluxe rooms, 265 one-bedroom apartments, and 31 two-bedroom apartments. For context, the other 22 hotels on the same strip of road have an average of 250 to 300 rooms.
There are four health clubs, but guests probably won't need to visit these if they decide to take the stairs — all 3,859 of them. If visitors decide to skip the stairs they can opt for one of six elevators that operate at 16 miles an hour.
There's five restaurants and a rooftop pool that beats out Singapore's Marina Bay Sands as the highest swimming pool in the world.
"The feel of being at home when the person is actually away from home is what we are trying to deliver," the hotel's general manager, Jairaj Gorsia, tells The National. Which makes sense for those of us who currently live more than 300 feet off the ground.
Don't let the Gevora's solid gold revolving doors throw you off, the hotel is aiming to be an "economical option" for visitors to Dubai. An average room will start between $163 and $190 a night, with a two-bedroom suite about $600. Nearby hotels start at about $245 for an average room.
"We are going into the market at a rate slightly lower than the average around this area. The room rates that we will offer is considered very competitive," says Gorsia. He also explained that as a dry hotel, the Gevora would appeal to families and those looking for a low-key but high-quality stay. "Our guests are looking for a good bed, a good cup of coffee and convenience. The hotel is located in the centre of Dubai and we offer high quality service."
Unfortunately, although the hotel is slated to begin to receiving guests, its website is still under construction. For now guests can email to inquire about bookings. And for any daredevils out there who are enticed by with the news of a new tall building to scale, be careful. Gorsia told The National that the hotel will have a dedicated security team in place to monitor the hotel for stunts.